With 86 rooms and 27 suites, The Chow Kit by Ormond Hotels is the city's premier design-led, experience-driven accommodation which—inspired by the gritty neighbourhood it's chosen to call home—is a traveller's sanctuary for exploration; bringing a shot of new energy to old Kuala Lumpur.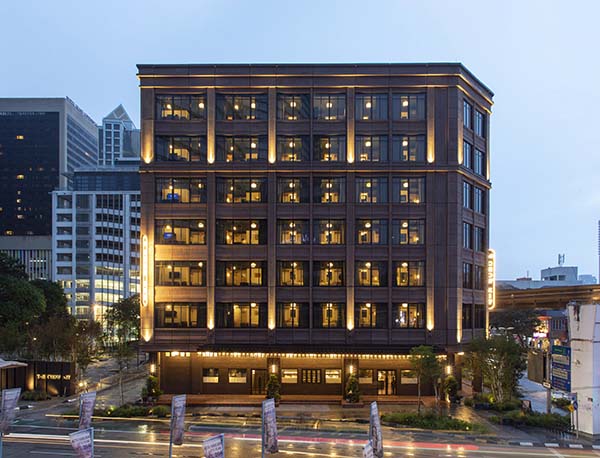 New York City-based Studio Tack are responsible for the hotel's architecture and interiors, choosing to respect the location and combine tradition with modernity, blending the contemporary with comfort and designing a space more akin to a home than hotel. The studio's first foray into Asia, The Chow Kit features modern essentials, luxury amenities, an art programme which showcases curated artworks in guest rooms and public spaces, and rousing interiors.
Whilst the bedrooms are spacious and relaxing, the public spaces at The Chow Kit are places to linger, meet friends old and new, and to learn more about the rich history of Kuala Lumpur; especially the surrounding Chow Kit neighbourhood. A lesser-known locale in terms of tourism, the suburb—traditionally known as a major red-light district—is definitely frenetic, the Chow Kit Market not for the faint hearted, its bazaars colourful and loud. Back inside the hotel and the inviting lobby is a chilled out space from day to night filled with deep, tufted banquets, lounge chairs and layered rugs.
Guests have access to a curated list of things to 'See, Eat and Do' in the neighbourhood, but the hotel's very own Chow Kit Kitchen—open from breakfast to dinner—is not just the heart and soul of the whole venue, it's a place to top-up on social and physical nourishment; diners invited to devour dishes such as tomato laksa soup, prawn and sticky rice rolls, and the homemade Rendang Burger served with rendang sauce, pickled root vegetable, shredded lime leaf and fresh chillies.
Offering simple luxuries and a real insight into its city through honest design and local collaborations, The Chow Kit gives its guests a refreshing change in a world where excess and extravagance no longer evoke desire.