Barcelona hotel and creative class royalty, Casa Bonay, has bestowed Barcelona's residents and visitors with a bounty of brilliant benefactions since opening its doors under the guidance of the much lauded Inés Miró-Sans just last year. Damn fine coffee? Satan's are on hand to oblige. Carefully-crafted cocktail? Step into lavish lobby bar Libertine's. Design conscious book or magazine? No problem, Blackie Books are located right here in the grand courtyard entrance.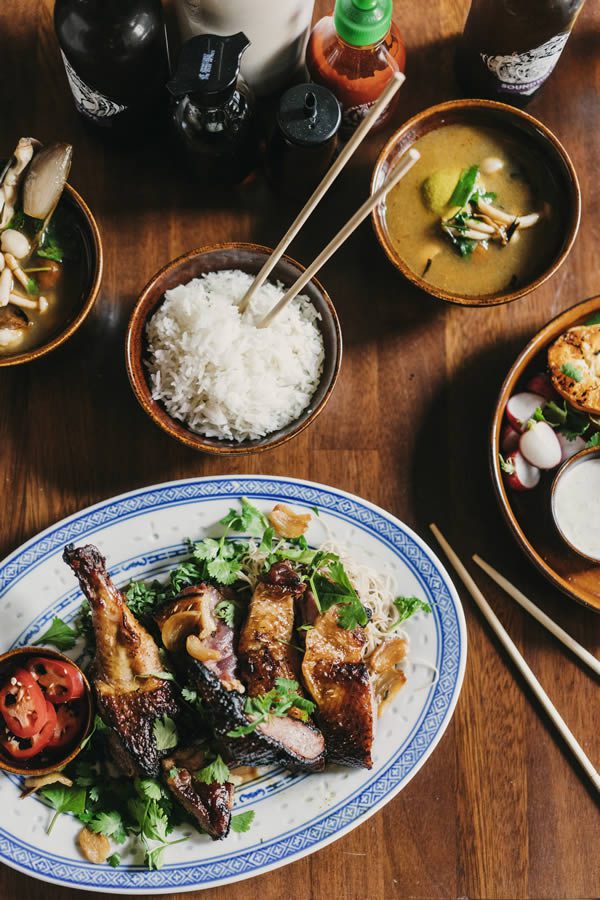 Alongside Bonay's host of creative collaborations, acclaimed chef Estanislao Carenzo has been quietly cooking up a devoted following at his Southeast Asian restaurant, Elephant Crocodile Monkey; an authentic walk through the region's chaotic food markets — the Argentinian's favourite flavours from Thailand, Vietnam, and Laos, recreated with only the freshest ingredients from the Mediterranean.
Growing up in Buenos Aires, the chef watched in awe as the city's renowned Chinatown was born, and cites this as his first contact with Eastern culture and cuisine. Leaving the country at 19 to travel extensively, Carenzo went on to cut his teeth at Michelin-starred restaurants in France and New York; his passion for Asian cuisine continuing to evolve during this time.
These days, Estanislao has gained a reputation as one of the best chefs for Asian food in Spain, and is owner of acclaimed restaurants Sudestada, Chifa, and Picsa in Madrid; alongside Sudestada in Buenos Aires, which opened in 1999. Elephant Crocodile Monkey brings together all of Carenzo's experience and love for the cuisine, and has recently debuted a new menu that shows off his virtuoso talents. As sublime as it is concise, the no-bullshit menu runs from dishes like Vietnamese spring rolls (filled with pork and local mushrooms) to braised veal jowl red curry and on to a show-stopping whole duck, barbecued in the restaurant's Josper oven.
Focussing on the punchy palate of Southeast Asian, Carenzo's passion for the continent at large is evident throughout; time spent working and travelling in Japan evident in the menu's philosophy of simplicity. Design-wise, Estanislao Carenzo might be reminded of his time in the kitchen at Daniel Boulud's New York flagship; Brooklyn designers Studio Tack leaving an indelible mark of the city's infamously stylish low-lit dining rooms; wood-panelling, an open kitchen and long, narrow bar recalling some of the city's slickest spaces. Offering something entirely new to the Catalan capital, Elephant Crocodile Monkey looks just as good as it tastes.
An accompanying wine list has been overseen by Carenzo, and features a healthy selection of local natural wines; the chef seeking to explore connections between modern Asian cooking traditions and the Europe's blossoming natural wine culture. Local craft brews and select sake comprise the rest of the bar menu. As Casa Bonay has presented Barcelona with so much to shout about, so too Estanislao Carenzo and the creative minds behind Elephant Crocodile Monkey deliver on every level. Special, special stuff.