It might be located only 20 kilometres south of the Catalan capital, but at times Little Beach House Barcelona can feel a million miles from its famous namesake. Or more like several thousand miles and over half a century.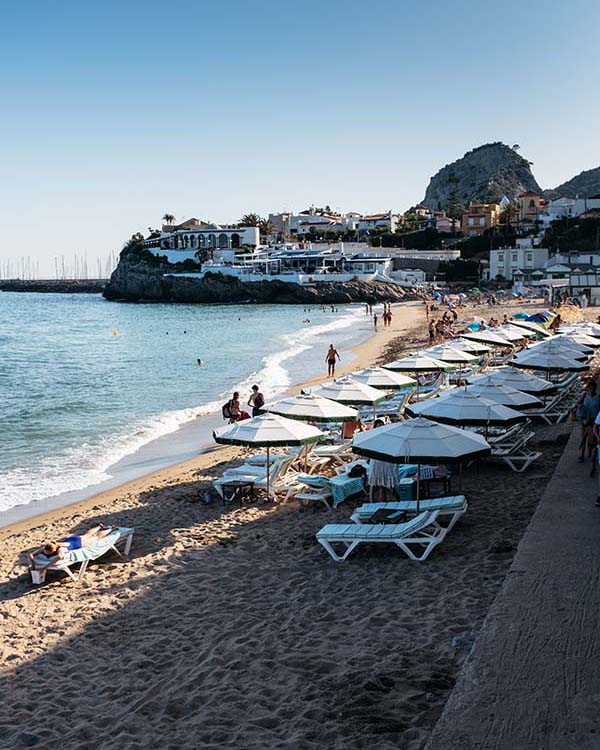 Think more California than Catalunya; a beach-front Malibuesque retreat whose 17 bedrooms, split over just two floors, overlook the soothing lap of the Mediterranean. A nostalgic haven for relaxation and recuperation, LBHB serves an off-switch ready to engage when city life gets too much.
Occupying an old 1950s motel right on the waterfront in Garraf, a small fishing village surrounded by the impressive Garraf Natural Park, Little Beach House Barcelona combines signature Soho House hallmarks (striped sun loungers, interiors that make you want a permanent move and a Cowshed Spa) with Spanish and Catalan influences such as a façade with green and white stucco walls to emulate the 'chiringuito' huts that line the coast; all with a wistful nod to glory days of European beach retreats.
Guest rooms range from small to beach studios and feature red and white triangle-patterned tiled flooring, custom-designed rugs, lamps made by a local ceramicist and tapestry wall hangings by artist Maryanne Moodie; a self proclaimed 'fibre-obsessed maker' who can be found working between Melbourne and Brooklyn. Sea-facing rooms boast a small outdoor terrace where one can sip on a cocktail they've fixed themselves from the comprehensive in-room bar selection; listening to the waves gently lapping against the shore whilst breathing in the salty fresh Mediterranean air.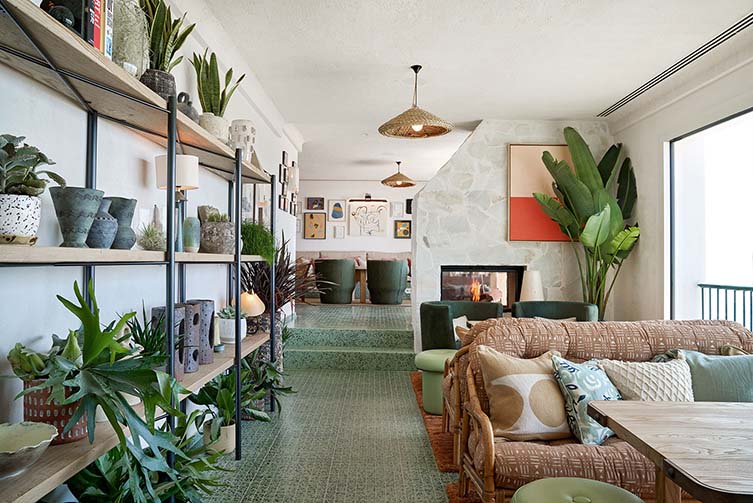 A selection of small rooms offer a rooftop terrace fitted with an outdoor bathtub and views of the Garraf hills, the same with the beach studios which enjoy a larger terrace with bathtub, sun loungers and a dining area on the top floor. Downstairs, views of the sea, contemporary furnishings and exposed timber-beamed ceilings have guests feeling at home in no time.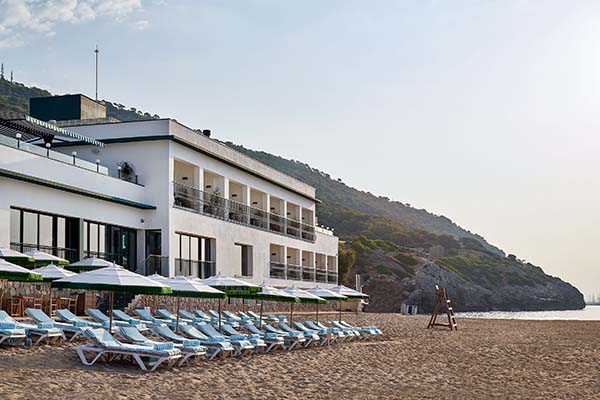 Traverse the steps to Little Beach House's roof and a geometric-patterned tiled rooftop garden overlooks the beach; lush greenery lining the terrace and softening the tough aesthetic of the mid-century inspired concrete bar that runs along one wall. Up here, green and white striped awnings and parasols provide shade from the strong summer sun, allowing guests to indulge in a spot of lunch or a sunset tipple without too much discomfort. Red, burnt yellow and sage green tones—complementary colours that run throughout the House—can also be found on the roof, namely in the block-printed fabrics on the seating. A small Cowshed spa offering a short list of treatments to complete the rooftop's offerings.
White stucco walls and hints of colour that reference the design of the property's previous incarnation (Hotel Quim) greet members and guests as they arrive at the House, the reception area also featuring low banquette seating and tables that look out to sea through imposing floor-to-ceiling windows. Ping pong paddles interpreted by leading artists line the wall, as does a rack of kitsch postcards that nod to the Garraf of the '50s; continuing the nostalgic essence of classic European beach resorts that permeates throughout.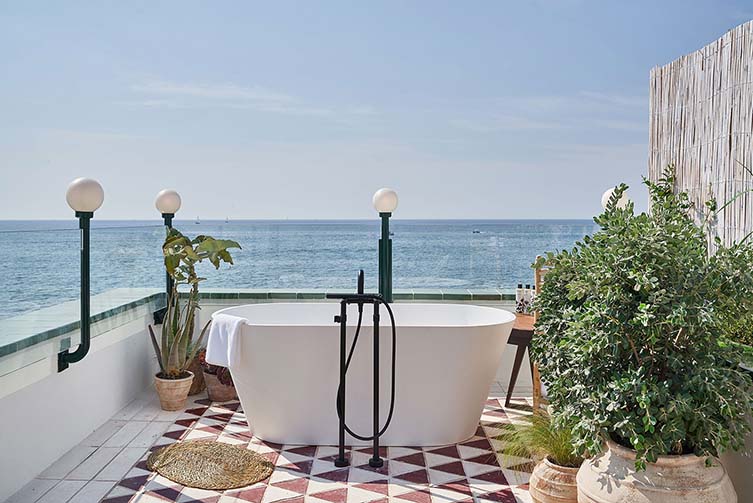 Located next to the reception area, is the House Kitchen, an indoor-outdoor 50-seat restaurant and lounge serving up Mediterranean-inspired plates from morning to night; the green terrazzo tile-floored space also leading out onto the beach where those enigmatic green and white stripped sun loungers hug the coast. Whether you're dining inside or at your lounger, attentive service awaits, and the setting is perfect for feasting on a fresh catch of the day during the summer months, sipping on a cold glass of rosé.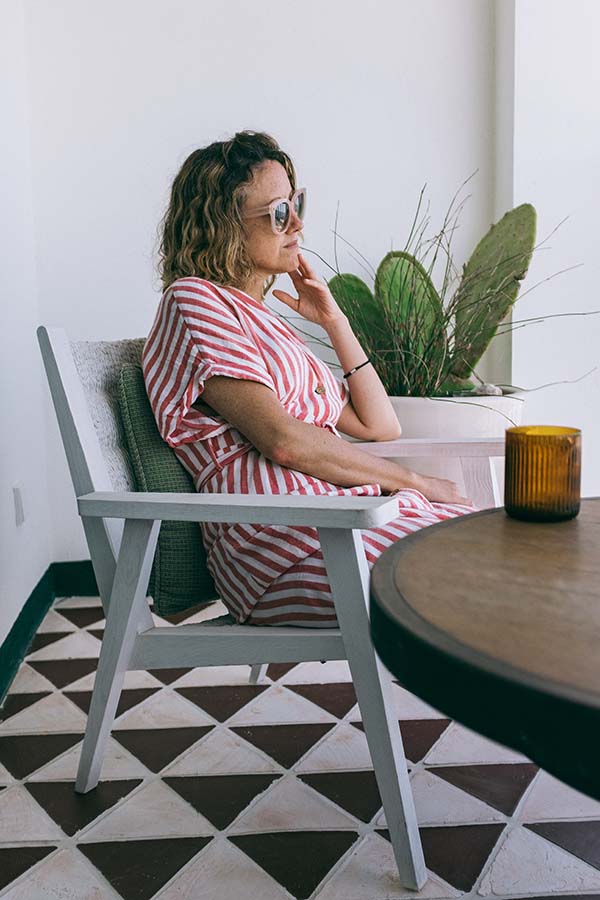 Come nightfall, the lighting turns magical; just enough to remind you that you're by the seaside whilst tuning into just the right level of romance. Take a table in the middle of the restaurant and you can watch the chefs in action at the hobs, the pizza oven, paella counter or fish counter where the freshest seafood is displayed. It's also a prime spot for people-watching and star-gazing.
We order two frozen Tommy's Margaritas—a refreshing blend of Patron Silver, lime and agave, with the addition of a salty rim—whilst perusing the menu. Deciding to keep the selection local and faithful to our setting by the seaside, we opt for a selection of tapas to kick off the proceedings: grilled sardines smattered with rock salt, croquetas de gamba with generous amounts of prawn, a tangy tuna ceviche with passion fruit, mango and pear and pa amb tomàquet, the crunchy Catalan tomato bread with lashings of local olive oil.
Opting for the octopus with a side of potatoes and fresh salad, and the Dirty Burger with a side of mac 'n' cheese, we wash down the covetable feast with a bottle of Can'estruc, a local rosé, and a bottle of local craft beer for the burger. Dinner ends with a serving of chocolate ganache with olive oil, salt and orange, and a refreshingly tart orange sorbet, before we order two more Tommy's Margaritas for the road and head back to enjoy them on our terrace.
As with other Soho House properties, Little Beach House Barcelona is a place that you simply don't want to leave. And you needn't. Along with a literal abundance of Cowshed products, the room includes impressive amenities from tampons to ear plugs, wet swimwear bag to travel adapters and phone chargers. Many a hotel chain could learn a thing or two about this level of hospitality.
Finishes and design touches of the highest quality, a nostalgic air of the Jet Set's golden years, boutique glamour and hospitality to match it all, Little Beach House Barcelona is as fine a hotel as you'll discover.