Never far from the headlines, it's some 30 years since the elusive street artist's work first emerged on the streets of Bristol.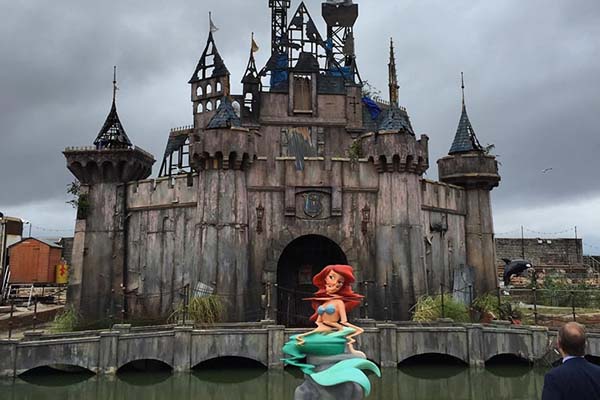 Since then, he has created countless installations; opened a bemusement park, Dismaland; directed a documentary, Exit Through the Gift Shop; and decorated the Israeli West Bank wall. And he shredded Balloon Girl moments after it was sold at an auction at Sotheby's for more than one million pounds. The old devil.
One might expect that a street artist is out of a job during a pandemic when roaming the streets—especially at night—is prohibited. But lazing seems not to be his style. Let's have a quick update on the Bristolian's movements since the coronavirus pandemic changed everything.
Working from home: Working from home is easy when you have an office job; not so much when you are a street artist. But Banksy managed to pull this one off, too. In mid-April, days after the UK extended its lockdown with at least three weeks, Banksy revealed an art installation showing his home overtaken by vile rats. The tagline of the pictures shared on his Instagram read "My wife hates it when I work from home."
Honouring the frontline workers: Lots of people around the world had to reconsider what workers they call 'essential' during these trying times. Countless voices were praising doctors, nurses, retail workers, delivery person, and everyone else who was on duty while the rest of us were stuck at home. Countless, plus one, actually. Banksy's Game Changer, paying tribute to NHS workers, appeared overnight at the Southampton General Hospital in Hamptons, England, early in May.
The painting was delivered to the hospital with a note that read "Thanks for all you're doing. I hope this brightens the place up a bit, even if its only black and white." The painting will stay in a hallway close to the hospital's emergency entrance until this fall when it will be auctioned off to raise funds for the NHS.
Black lives and falling statues: The latest piece of art revealed by the elusive street artist was revealed a couple of weeks ago on Instagram is painfully current; being to do with the murder of George Floyd by the police that has triggered massive protests in the US and around the world. "At first, I thought I should just shut up and listen to black people about this issue," the note attached to the picture reads. "But why would I do that? It's not their problem. It's mine.
"People of colour are being failed by the system. The white system. Like a broken pipe flooding the apartment of the people living downstairs. This faulty system is making their life a misery, but it's not their job to fix it. They can't – no-one will let them in the apartment upstairs. This is a white problem. And if white people don't fix it, someone will have to come upstairs and kick the door in."