Providing a much-needed sense of community in 2020, The Society Hotel Bingen—set over 2.6 acres in the Columbia River Gorge National Scenic Area—is a campus featuring a spa, café, community spaces and a variety of design-led lodgings that bridge the gap between hostel and hotel.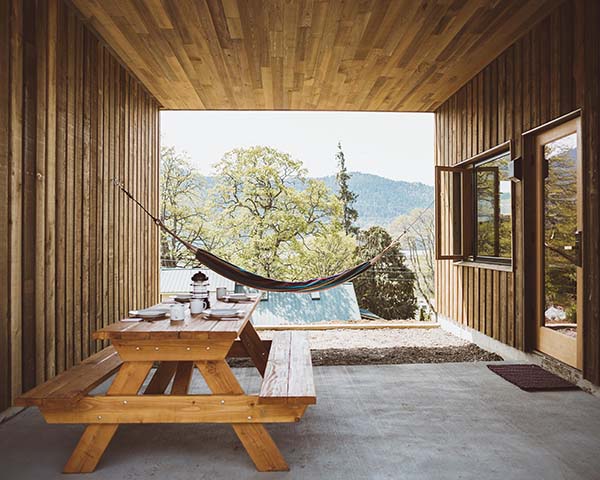 A basecamp to both explore the picturesque region and get off the beaten track, or feel the spirit of the great outdoors without even leaving the complex, the life and soul of this stylish country retreat is the Bingen Schoolhouse. Built in 1908 and rebuilt in 1937 following a fire four years earlier, the cornerstone of the Society Hotel fuses modern amenities with historical preservation; the emotive schoolhouse retaining its original feel wherever possible.
Set over 20 units, guests can choose from private standard rooms and bunk rooms, the former (of which there are ten) featuring a queen or king bed with shared bathrooms options. For those looking for a little more privacy yet still be among the community spirit here, the 'Cabin Ring' offers miniature cabins that include an indoor lounge area, kitchenette, and outdoor seating area with table and hammock; available as one or two bedrooms and boasting complimentary spa access.
With a saltwater soaking pool, sauna, hot tub and cold plunge pool, said Spa and Bathouse is the ideal place to relax after a day of hiking, cycling, whitewater rafting, or simply soaking in the good life. Recharge your batteries ready for a wine or two with the other guests come nightfall. (Or earlier, you're on holiday.)
Offering a refined, off-the-beaten-trail experience in surrounds that fuse contemporary urban living with classic Americana, The Society Hotel Bingen—the second location for the brand who also own the original Society Hotel in Portland's Old Town—is a warm and welcoming experience-focussed retreat where travellers are encouraged to convene, connect and collaborate.