Located in the longtime-vacant Mariners Building in the heart of downtown Portland, The Society Hotel is a project from Matt Siegel, Jonathan Cohen, Gabe Genauer and Jesse Burke; combining lodging solutions and affordable prices in a lovingly curated experiential space, providing guests with an authentic 'Portland Experience'.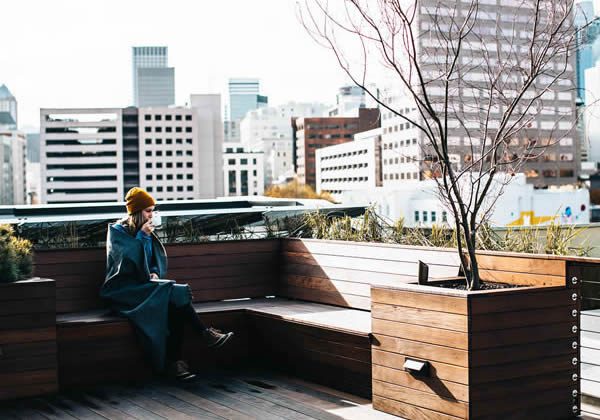 The design-minded hotel cum hostel, found in the city's Old Town Chinatown neighbourhood, offers a range of accommodation from bunk rooms (with extras like curtains, outlets and reading lights for each bunk) to private rooms with shared bathrooms, and on to private suites; travellers of every need catered for in a homely and nostalgic style.
Dating back to 1881, the building boasts a cast-iron frontage (one of only about 20 remaining in Oregon's largest city), retained ballistered staircase and oodles of historic charm — the quartet's mindful renovations also creating a new intimate lobby and the Society Cafe: a lounge, café, and bar featuring fresh pastries, coffee, and beer from some of Portland's finest; a hip hideaway for well-travelled guests to recount personal experiences of the creative city at large.
As the tallest building in the neighbourhood, The Society Hotel boasts unparalleled 360-degree views of the city and its downtown skyline — head up to the rooftop deck and cozy up under a blanket to watch the world below; al fresco movie nights, wine tastings and food events make up some of the cultural programming to be undertaken up here.
For Siegel, Cohen, Genauer and Burke, service is key and the entrepreneurs seek to challenge your hotel perspective. Here, true originals are appreciated; adventurous travellers meet and memories are made. Welcome to The Society Hotel, welcome home.