Adding to an already buoyant hotel scene for the U.S. capital, Riggs Washington DC is the first U.S. property from Lore Group, the hospitality brand behind the beautiful Pulitzer Amsterdam and Sea Containers London. Opening in the city's diverse Penn Quarter, the 181-room hotel brings with it a remarkable grand café, and Silver Lyan; a subterranean cocktail bar by internationally-acclaimed bartender Ryan Chetiyawardana (a.k.a. Mr Lyan), the mixologist's first American outpost.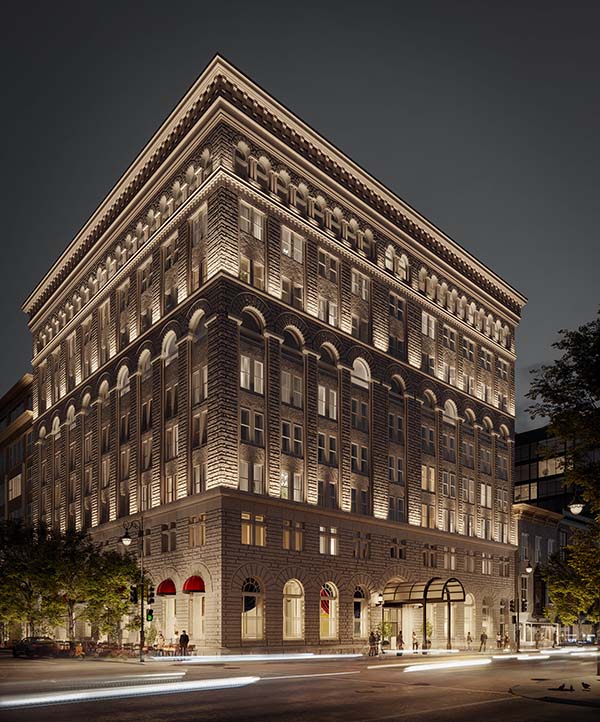 Located in what was once home to Riggs National Bank, Lore Group creative director, Jacu Strauss, looked to the stately building's history when devising the hotel's concept and design—invoking the grandeur and august spirit of the former bank, preserving and restoring original features that include Riggs's imposing barrel-vaulted lobby; historic Corinthian columns; expansive, lushly ornate ceilings; and classically inspired stonework.
Drawing on the bank narrative, in-room amenities at Riggs Washington DC include a minibar and safe hidden within a design aesthetic that mirrors a traditional steel safe, whilst the suites—including the two-bedroom Riggs Suite within the original bank boardroom—the eccentricities of former First Ladies are honoured in a nod to the luxury hotel's location; that includes the extensive porcelain collection of Benjamin Harrison's wife, Caroline Harrison, and the passion that Louisa Adams—the wife of sixth POTUS, John Quincy Adams—had for music.
Inspired by the great brasseries of Europe, Café Riggs serves modern fare in a bright dining room filled with custom furniture pieces, artworks, and mirrors. Down on the lower level, Mr Lyan and his team offer their disruptive cocktail concept at Silver Lyan, debuting a groundbreaking blend of classical and kitsch cocktails on American shores; a destination spot for locals as much as travellers, and a welcome addition to DC's increasingly impressive hospitality scene.