'These are the houses the upper class lived in, you'll see how some have more steps up to the front doors than others,' our captain imparts; 'these were the real movers and shakers of the golden age.'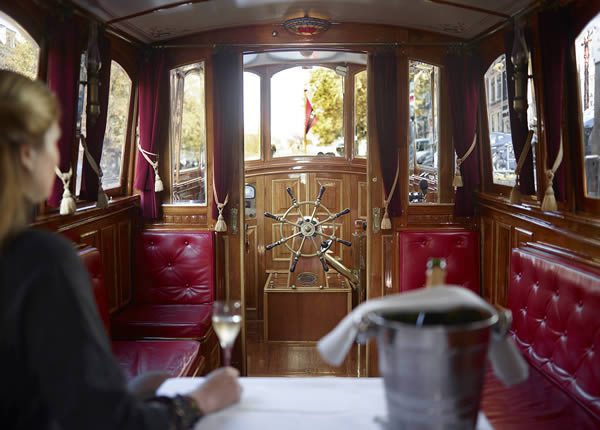 I barley notice the odd one or two step difference to be honest, but then I'm travelling along Amsterdam's Keizersgracht (Emperor's Canal) in the very same 1909 boat that a certain Winston Churchill spent time aboard in 1946; who's the mover and shaker now? 'As well as being more expensive the owners would pay more tax, another sign of wealth,' he continues. How times have changed.
Our hour-long tour of the city's famed canals over, we dock back at the Pulitzer Amsterdam; an air of regality imbibed. The iconic hotel is 45 years-old, and set around a collection of 25 canal houses which — after extensive restoration — reopened this autumn; revealing (among plenty more) an impressive new entrance, the first new building since the canals received UNESCO status in 2010.
The boat, the entrance … the weight of luxury is inescapable here. A flower shop and grand piano suspended from the ceiling welcomes guests — 'a nod to the summer music festival that takes place outside our front door each August', I'm later informed — contemporary and classical art adorns the lobby walls; and vintage furniture is dotted among crisp modern finishes. Check-in is seamless and enlightening; service and knowledge everything at this five-star hotel established by Pulitzer Prize founder Joseph Pulitzer's grandson Peter. (A lobby library includes a book from each winner of the esteemed literary award.)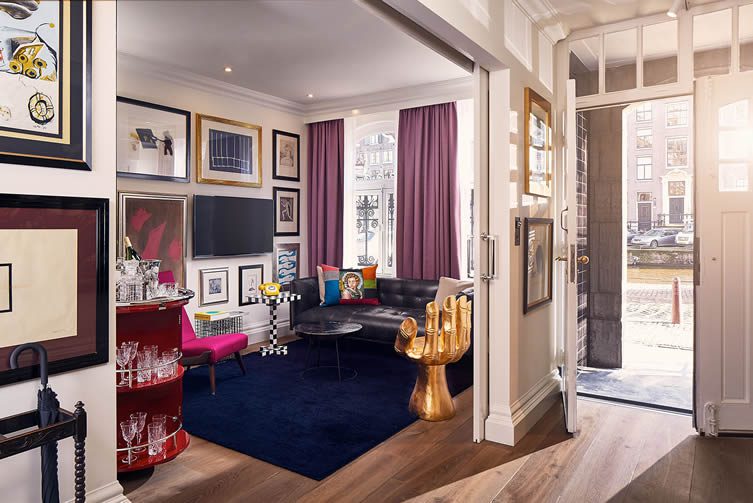 Located in Amsterdam's fanciest neighbourhood and overlooking the Prinsengracht and Keizersgracht canals, the property blends traditional and modern Dutch craftsmanship. With 225 guest rooms there's a cosmopolitan buzz about the place — spread across a series of individual canal houses, though, the hotel retains an intimacy properties of this size can rarely achieve.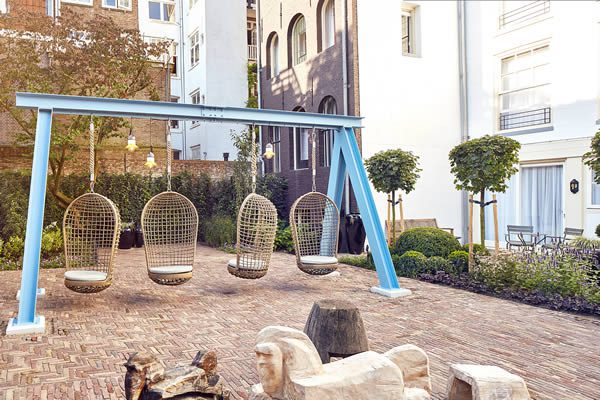 A former senior designer at Tom Dixon's Design Research Studio, creative director Jacu Strauss worked with a highly skilled team to deconstruct the heritage of those 17th and 18th century canal houses; an inner garden — filled with swings, sculptures and space to enjoy the delights of all-day café, Pause at Pulitzer — transports guests from city to an airy park vibe. The two-storey Pulitzer gym is located next door for those wanting to burn off the calories they've consumed in indulgent macarons.
Our spacious room overlooks the garden, and features an eclectic mix of finishes and designs. Exposed brick walls add a touch of the industrial, and create a juxtaposition with the stark white bathroom; a vintage telephone, custom-made cocktail minibar, and Le Labo amenities fuse original and historic features with luxurious modern-day elements.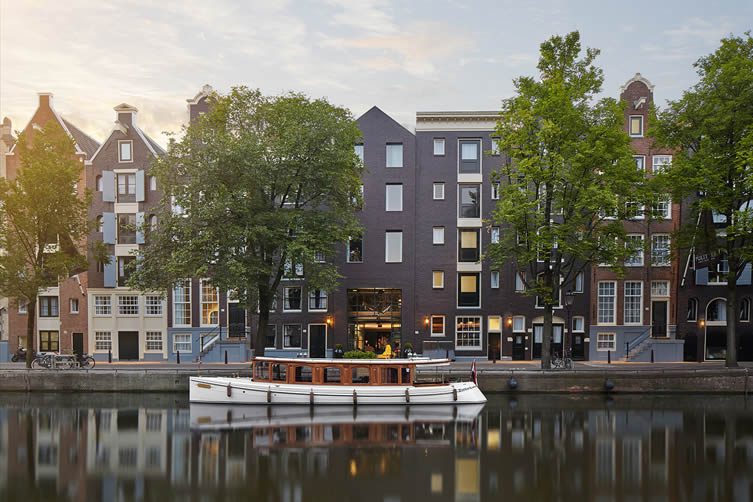 Alongside its handsome new rooms, suites, and communal spaces, the all-new Pulitzer Amsterdam also boasts four 'Collector's Suites', mesmerising spaces that are each inspired by characters who may have lived in the buildings throughout the years; their unique narratives played out with exuberant design details.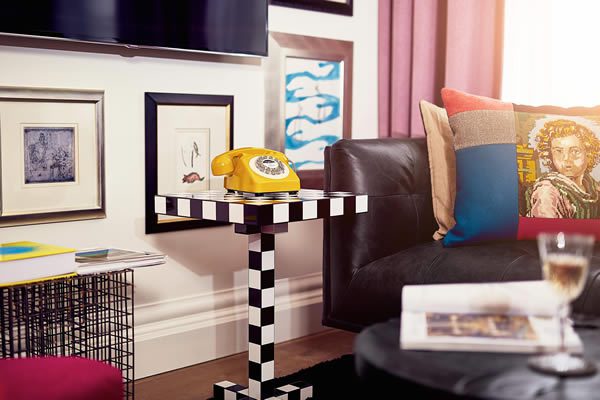 Trade merchants to flamboyant Dutch aristocrats (who most definitely had more steps than anyone else in the city), each suite has its own private entrance and views of the canals, and boast singular design features; a modern interpretation of The Last Supper in the Art Collector's Suite, a wall of trumpets in the Music Collector's Suite.
Located in a corner canal house with its own entrance — via an untouched heritage apothecary — Restaurant Janz serves modern classics with a Dutch attitude. White marble tables and dusty pink walls make for a stylish environment to enjoy breakfast — come evening, though, lights are dimmed, candles lit, and diners treated to an intimate experience; executive chef Cassidy Hallman and his team serving bistro classics with serious panache. Next door, Pulitzer's Bar is a dimly-lit sumptuous space with expertly-crafted cocktails that follow the theme of blending old and new.
The polished teak, brass, marble and leather of our sea-faring stunner; Memphis design pieces in the art-infused suite; bang up-to-date indie print publications; timeless materials; on-point service; Pulitzer Amsterdam is a proud march through its own storied history, a reverent reminder of the rich heritage that runs through the canals it sits upon. In updating a hotel as esteemed as this, Jacu Strauss and his team have avoided the traps set by history and pedigree, and created an icon in its own right.