The second LINE hotel, a sibling for the jaw-dropping Los Angeles flagship in Koreatown, LINE DC is housed in a renovated neoclassical church with 60-foot vaulted ceilings, sturdy copper doors, and church organ pipes repurposed into an architectural chandelier. Seating takes the form of pews, and hymnal boards sourced from around the world lead visitors through the reverential property.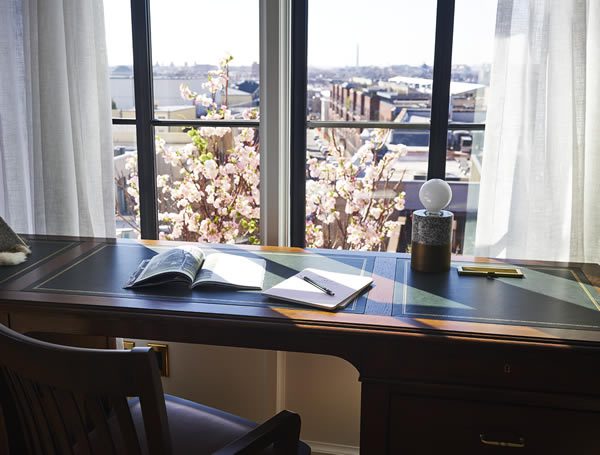 Located in the reverberant Adams Morgan neighbourhood of Washington, D.C., the hotel shares the company of a diverse mix of restaurants, music venues, and independent stores; and is a culinary and social hub in its own right, offering impressive food and beverage options through collaborations with local talent including A Rake's Progress, The Cup We All Race 4, and Spoken English, a small restaurant cum speakeasy centred around a custom open flame.
Wildly different to LINE Los Angeles, yet equally singular as a deeply considered design hotel project, no detail has been spared in INC Architecture & Design's putting together of its 220 guest rooms and public areas — LINE DC boasting 3,000 pieces of original artwork and photography from local artists; micro libraries; and a live broadcast podcast network and internet radio station. LINE DC's cultural offerings as meticulously crafted as its powerful aesthetics.
Creative, innovative, encompassing its local community, and home to sweeping views of the Washington Monument and Washington National Cathedral, the Sydell Group have hit the high notes once again; LINE DC a psalm of design details, considered food and drink, and cultural dedication. Celestial.