A place for people to "hang out, share ideas and express themselves," café-cum-bar, Protagonist, encourages each guest to be the leading character of their own story and "advocate of their creative ideas". Located in the Ukraine city of Kharkiv, the façade may be simple, but step inside and little else is.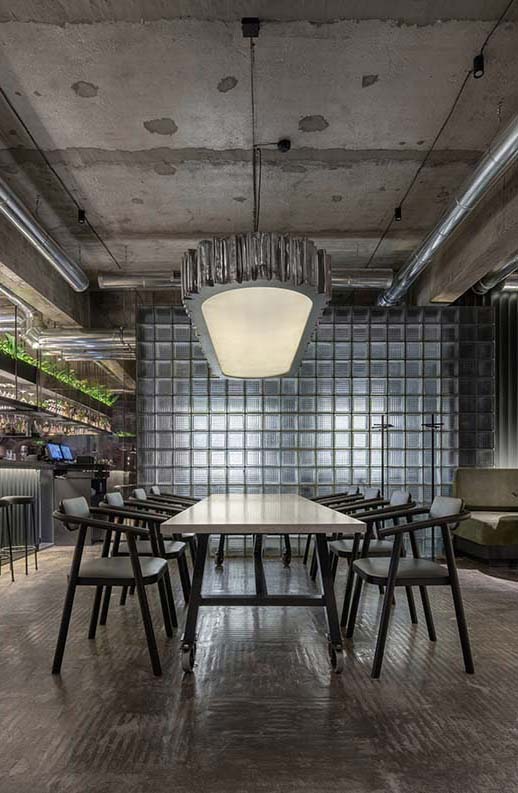 A dark and industrial space, architects Slava Balbek, Liza Kormilets, and Yevhenii Kuchmin, retained many original elements including concrete pillars, intricate floor tiles, and the textured ceiling; the designers preserving and emphasising the original architectural design of the building whilst breathing life into it for a new generation.
Dividing the café-bar into 'functional zones', guests can choose their desired space according to their needs. The back of the room, meanwhile, is a dedicated 'tech' zone; and the central area a sociable space filled with a long communal table and full-size bar. Above the table hangs a light fixture in the shape of the following phrase: 'this city needs a leading character'. Capable of being winched up during more raucous evenings, the shape of the light spells out the concept behind Protagonist's name and ethos.
Designed to attract the city's hip crowd, the owners expressed an interest in a quality sound system, opting for something impressive from Void Acoustics, which means Protagonist is capable of playing both high quality background music or hosting live DJs for noisier sessions. Vintage design features throughout, from the DJ's control panel—created by modernising a vintage radiogram—to an aged mirror on the back wall creating an effect of the visual infinity, and soft armchairs and sofas; all except the communal tables being designed and produced by the architects' furniture brand propro.
A venue for the city's creative crowd by day and cool cats come nightfall, at Protagonist, ones writes your own script, whatever that may be.