Although Jason Rhoades spent the entirety of his career living and working in Los Angeles — until his untimely death, from expected drug-induced heart failure at just 41 — it was the east coast and beyond into Europe where his work enjoyed its notoriety most. Making up for that, and then some, is the first major exhibition dedicated to the artist's divisive work; showing now at the city's Hauser Wirth & Schimmel gallery.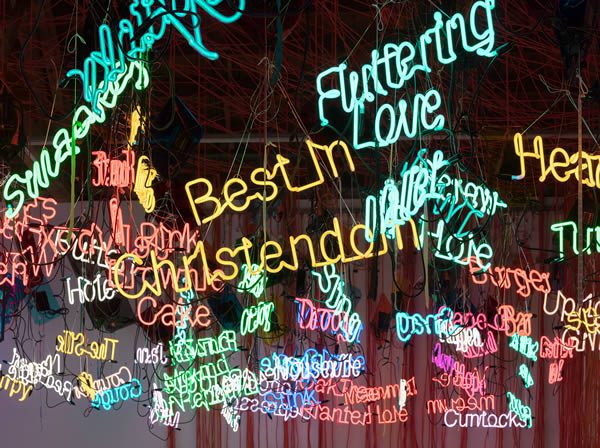 Persistently pushing boundaries of cultural and social convention, shattering the accepted rules of public nicety, Rhoades was very much the art world bad boy; a politically-charged artist who saw the world through glassed tinted by the lust and lure of capitalism. The three latter works of the six gargantuan installations on show here are largely dedicated to his inexhaustible quest to find the 'Ultimate Pussy Word'; in February 2006 Rhoades admitted that he had collated over 7,000 terms. Expect plenty of taboo and political incorrectness here, then.
Kicking off with 1994's Swedish Erotica and Fiero Parts — which saw the former student of unconventional artists like Paul McCarthy and Richard Jackson burst onto L.A.'s art scene with an ode to mundanity, Ikea and the act of buying — and ending with the frenetic maximalism of Tijuanatanjierchandelier (2006), completed in the year of his death, Jason Rhoades. Installations, 1994 – 2006 is an uncompromising survey of an exceedingly uncompromising artist. As well as continuing his search for the definitive word for the female genitalia, Tijuanatanjierchandelier sees Rhoades exploring his preoccupation with consumerism; here drawing parallels between tourism in analogous third world border towns: Tijuana, Mexico and Tangier, Morocco.
The melee of trinkets, trash and offensive neon forms a kind of XXL-scale triptych with My Madinah. In pursuit of my ermitage… (2004) and The Black Pussy… and the Pagan Idol Workshop (2005); a trio of complex, disorientating traipses through spiritualism, cultural appropriation, iconography and … pussy … in the post-9/11 landscape. The Creation Myth (1998), an irreverent depiction of the human body and brain, and My Brother / Brancuzi (1995), a juxtaposition of Rhoades's brother's suburban bedroom and the studio of modernist pioneer Constantin Brancusi, complete a sextet of baffling works that embrace the uneasy modus operandi of Jason Rhoades's radical oeuvre.
Jason Rhoades. Installations, 1994 – 2006 continues at Hauser Wirth & Schimmel, Los Angeles, until 21 May.