With 60 workstations, colour-coded meeting rooms and open kitchens spread over two floors, Stuttgart coworking spot, Urban Spaces, is a place for digital nomads, entrepreneurs and small businesses to work, plan, pitch and network.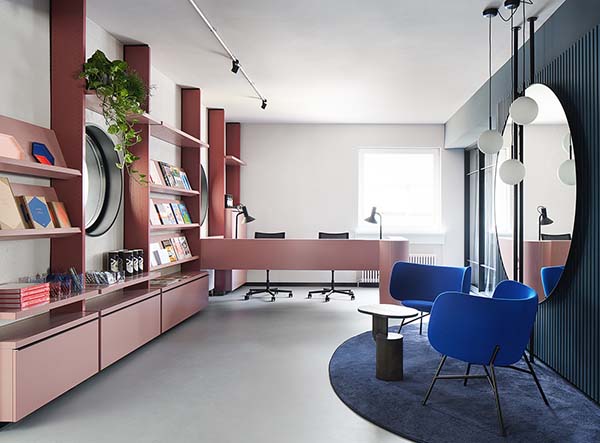 Designed by local interior architecture office, Studio Komo, Urban Spaces is the workplace of tomorrow; fixed office hours and static desks swapped for flexibility and fresh concepts. Driven by the principle of networking, walls were removed to enable members to circulate easily; "the aim was to merge rooms, divisions and functional areas so that each would flow into the next," explains Moritz Köhler of Studio Komo.
The resulting 800 square metre working environment also features full technical facilities; 'Focus Boxes', which are lined with PET felt and provide a private haven for coworkers to make phone call, carry out Skype sessions or work in silence; a relaxation room; sport room; roof terrace; and a shop that stocks everything from toothbrushes (nobody needs to work that much) to envelopes.
Linking the two floors is a steel staircase which leads all the way to the terrace, and an arena—ideal for quick, informal meetings—has been built into a connecting light-filled atrium. The colour palette and materials used range from shades of red in the Barolo spectrum, complemented by rich green and hues of blue and grey, to oak panels and plenty of greenery; an urban oasis designed to inspire its inhabitants.
Whether you're in Stuttgart for a few hours on business, looking for a break from the kitchen table at home, or looking for a more permanent base to spark and develop your ideas, with considered design and a thoughtful approach to the new work environment, Urban Spaces has room for you to get your feet under the table.
@urbanspaces.coworking
@studiokomo