With two locations in the Bavarian capital, MATES is a platform providing design-led coworking spaces for nomadic creatives to nurture their ideas, interact with likeminded folk, and develop their chosen career paths.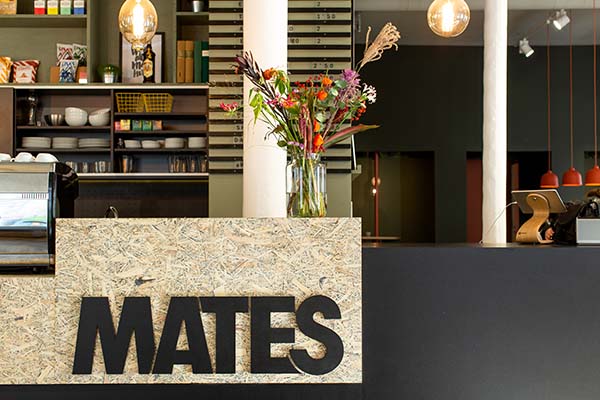 With a 'Drop-In' option, the monthly Hopper and a Resident package—the latter offering 24-hour access—there's something for everyone from the footloose worker to those who demand flexibility for their creative schedule. For larger teams, a variety of ready-to-move-into offices mean one can simply sign up and settle in without the need to bring equipment and large pieces of furniture with you.
Designed by Stuttgart-based Studio Alexander Fehre, MATES Munich is an inspiring venue, workers stumbling upon a heady mix of café, bar, retail and office upon entering the creative space. A long bar created from different levels of black MDF and whitewashed OSB (boasting the MATES logo) provides ample space for the mix of entrepreneurs and freelancers to acquaint with one another over a coffee, whilst the larger café area provides both a large communal table and many a private alcove for those prepping for their next pitch or simply requiring time out.
Individual workspaces separated by lateral boards can be rented by the hour and day, whilst the offices—with direct access to the café area—are more permanent options. A curated programme of events, updates on relevant industry topics, and the opportunity of joining almost 300 other creatives on their journey should keep curious minds entertained.
@mates_muenchen
@studioalexanderfehre