At 25 storeys tall, The Dalmar offers an urban alternative to Fort Lauderdale's beachside hotels; the 209-room property a playground for travellers and locals alike. The Tribute Portfolio Hotel is blessed with a whopping 100-foot infinity pool, the first rooftop bar for the Floridian city, four additional food and beverage options, and indomitable views of both downtown and the pristine beaches that dominate the coast of South Florida.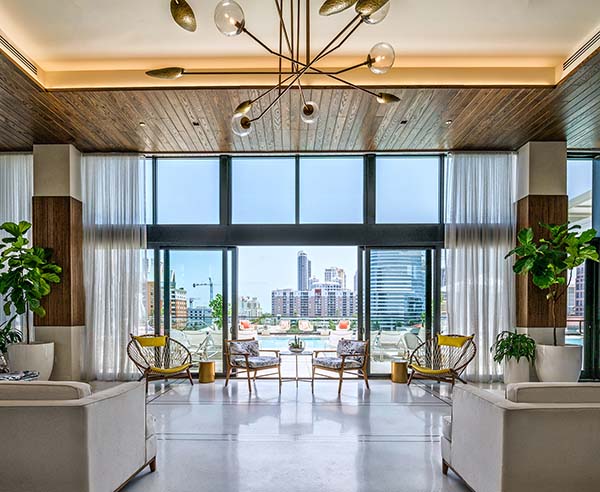 Creating a laid-back environment, international studio DesignAgency (understanding that the needs of both Fort Lauderdale travellers and local residents were evolving) decided to include the downtown area in its design, reinvigorating the local area by providing a host of hospitality experiences for all to enjoy.
From artisanal coffee shop cum wine bar, Rose's; through cocktail bar and Italian eatery The Terrace Grill; to Sparrow Rooftop Bar, which is half indoors, and half out, evoking the flair of the swinging '60s whilst serving fantastic food and cold beers—all with some seriously enviable views—with every step, The Dalmar is quickly becoming a destination in its own right.
The reception can be found on the design hotel's sixth floor, and boasts a large mixed-media and neon painting by Canadian artist, Thrush Holmes, emerald quartzite walls, and spectacular ocean views. Here guests will also find the Lobby Bar, with its potted plants and palms, a luminous pink onyx bar backed by a custom-designed stained-glass mural, and the infinity pool flanked by relaxing daybeds. It's the natural hub of the property, a place with an authentic buzz and happy travellers soaking in the sunshine.
Guest rooms feature calming materials in contrast to the louder public areas, natural woods and marble used to accentuate clean-lined simplicity, a muted colour palette, and thoughtful design. Downtown lodging reimagined, The Dalmar Fort Lauderdale makes for a luxurious stay away from the usual beachside hotels; its floral decor and wonderfully welcoming spirit guaranteeing this spot in the 'Venice of America' is one to add to your bucket list.