"The name was chosen because of the contradiction behind its meaning," I'm told as I stand in the hotel's library. "Like Victor, Barcelona is a city of contrasts. The sea and the mountains, the Catalan and Spanish language, Gaudí's architecture and the cutting-edge contemporary."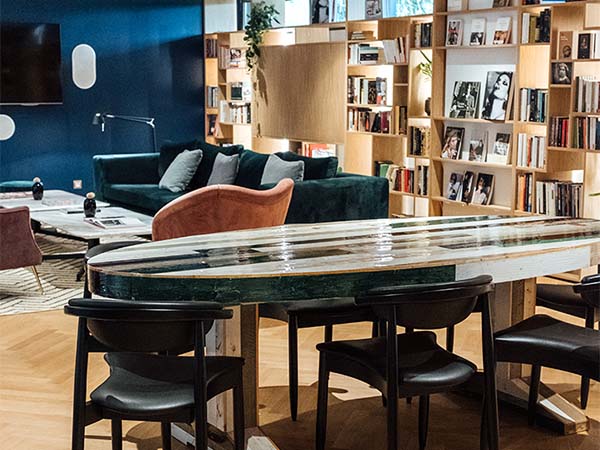 The name? Victor relates to Caterina Albert i Paradís, a Catalan writer who went under the male pseudonym Victor Català in a bid to get her work published; her dark literature deemed inappropriate of a woman in more conservative times. Surrounded by books in a variety of languages written by female authors, or which feature women as the protagonist, it's clear times have changed. Here at Sir Victor—the new Barcelona outpost for Sir Hotels, a young boutique chain with properties in Berlin, Hamburg, Amsterdam and Ibiza—the name challenges perceptions, and is the perfect foil for a progressive brand with a masculine moniker.
Having recently opened its doors, the hotel—located just off of Passeig de Gràcia and counting Gaudí masterpiece, Casa Milà and high-end boutiques such as Chanel, Prada, and Fendi as neighbours—features 91 rooms and suites; a multitude of living spaces; a Barcelona edition of award-winning Amsterdam steakhouse MR PORTER; and a rooftop bar and lounge decked out with colourful textiles and lush greenery. The petite pool offers respite from the summer sun and enviable views over some of the city's most impressive architecture.
Speaking of which, Sir Victor is situated within a landmark building designed by Catalan architecture firm Capella Garcia; once home to the city's first-ever design hotel, Hotel OMM. Its façade consists of a skeleton of several curved stainless steel structural modules, serving as a skin that's been 'cut' to fashion a number of slits which have 'peeled back'; curling outwards like pieces of card.
Aesthetically enjoyable for guests and locals alike, it is a façade of function as well as form—the cut-outs allowing for balconies in an area of restricted architectural augmentation; privacy from neighbouring buildings; commanding views out to the famous Passeig de Gràcia; reflection of afternoon light into the rooms; and reduced noise from the street below.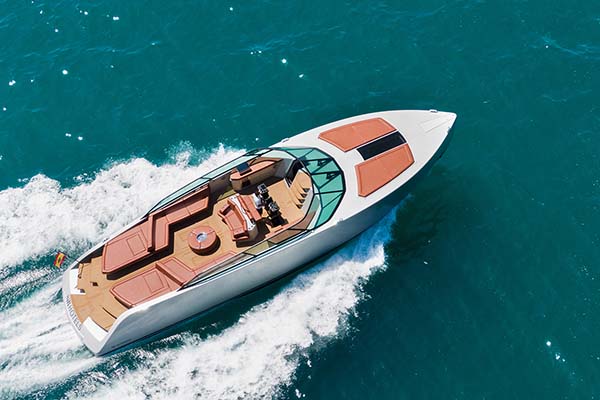 A lifestyle hotel inspired by the uplifting spirit of the city and its natural landscape, Sir Victor has managed to find the balance between local inclusion and guest discretion; the latter able to choose from a selection of curated out-of-the-box experiences that integrate them with the former. Sir Explore sees informed locals enlighten curious travellers on local cuisine, music scene, architecture and more; the lobby allows guests to shoot some pool, read a book or drink a cocktail in a handsome art-filled space designed by architecture studio Baranowitz + Kronenberg, featuring an eye-catching copper mesh ceiling, dark walnut furniture, Bocci light pieces and finishes in brass, steel, rose gold and Carrara marble.
Opposite the check-in desk, a small shop showcases Barcelona's independent and emerging designers including Lydia Delgado, Gonzalo Cutrina, Ölend and Curated By. There's even an impressive 60-foot dayboat with captain and crew member that can whisk up to ten out onto the Med at up to 40 knots for an unforgettable sun-soaked afternoon.
Sir Victor's guest rooms reflecting the vibrant city outside, each features colour-coordinated handcrafted rugs by Spanish designer Nani Marquina; furniture pieces by B&B Italia and Cassina; Sir's signature denim bathrobes (quite possibly the most desirable hotel robe we've donned); and artworks from established and emerging Catalan artists, including Bernat Daviu who was commissioned for a series of his distinctive Xarrupa paintings that run throughout the hotel.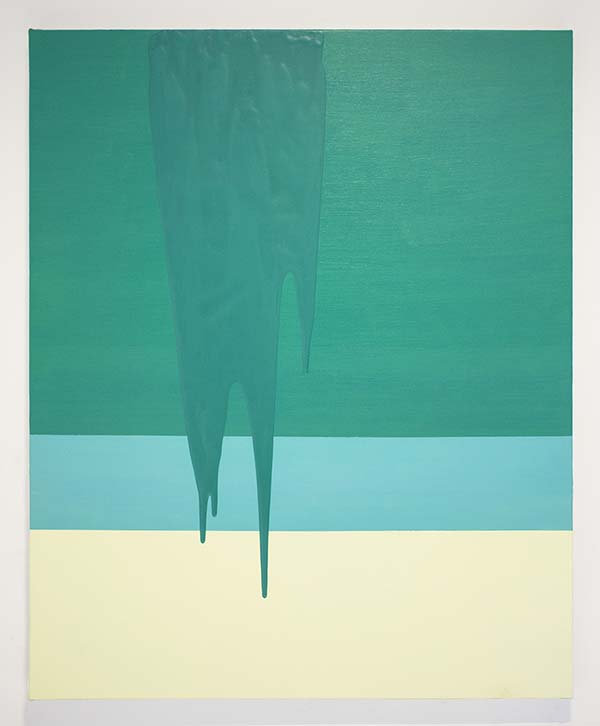 With notable works from internationally-revered artists such as Joan Miró, Antoni Tàpies, Alfons Borrell and Jaume Plensa—whose sculptures can be found throughout—Barcelona's powerful connection to the arts is indulged by Sir Hotels founder Liran Wizman, who is constantly adding to this impressive collection.
The Rooftop is undoubtedly the beating heart of this hotel, a destination where guests and city dwellers join to swim, eat, sip cocktails and listen to tunes spun by some of Barcelona's finest DJs; all with views over modernist architecture including Casa Milà; La Sagrada Familia; and the Josep Puig i Cadafalch-designed Casa de les Punxes.
With tropicana inspired interiors and a local-forward food and drinks menu (don't miss the melt-in-the-mouth delicious jamón Ibérico paired with Catalan staple, pa amb tomàquet, a crunchy bread rubbed with tomato, sea salt and olive oil), whether you're here for lunch, afterwork drinks, or a full evening meal in enviable surrounds, up-top is the place to be.
Completing Sir Vic's stellar offering, international hospitality company THE ENTOURAGE GROUP have brought MR PORTER to the city. A steakhouse born in Amsterdam and renowned for its high quality meats and cosmopolitan flair, the decadent restaurant is concealed behind the lobby and is already attracting a discerning local crowd; a basement club will host select events throughout the year.
A place for art-lovers and design-savvy travellers; for foodies and those who crave the local lifestyle; for bon vivants and sun-seekers; Barcelona's latest design hotel is a considered project already serving as a draw for locals, a place with presence and style, desirability and allure. Sir Victor, you contrary beauty, welcome to Barcelona.