Related to the esteemed Sir Albert of Amsterdam, Sir Savigny is crossing borders and making waves on the Berlin hospitality scene with a 44-room hotel located in a former Charlottenburg residence dating from 1893 on Kantstraße 144; a new urban concept for the upmarket neighbourhood.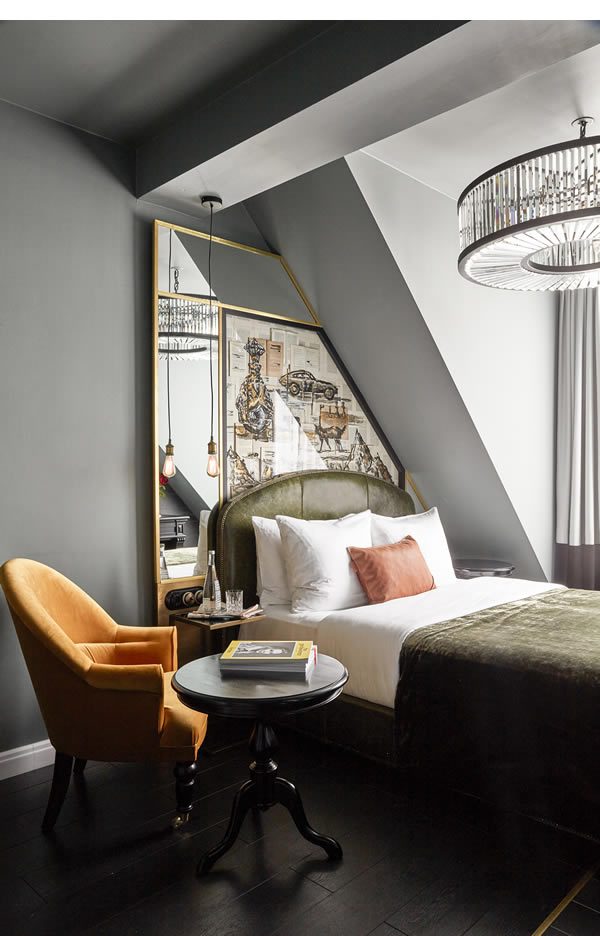 Guests enter through the lavish Baranowitz + Kronenberg-designed library, it's the heart of the hotel and features floor-to-ceiling steel shelves stacked with design books and journals; a large wooden communal table is a bustling hub where check-ins take place, as well as breakfasts and meetings. Coupling mid-century classics with custom-made and designer pieces, the mansion (overseen by the fictional Knight, a modern aristocrat with interests in art, literature and music) is welcoming and imposing in equal measures; an atmospheric treat befitting its grand locale.
German street artist DOME has hand-painted a ceiling in the entrance with life-sized sleeping figures, whilst Berlin-based artist Katharina Musick has created individual paintings for each of the rooms and suites; using collages of open books to showcase scenes of Sir Savigny's life in black and gold.
The Winter Garden is dominated by its 360-degree fireplace and views onto the green courtyard; it's the ideal spot to sip an aperitif on colder days before hotfooting it to Amsterdam staple THE BUTCHER, who have set up camp at the hotel — serving guests and locals with the finest in haute fast food, be it Aberdeen Angus beef; burgers; spare ribs; or fries with poached egg and truffled sauce. Fancy.