The name "Transformer" stylistically emblazoned across the front of this Fitzroy bar will spark a couple of super cool mental associations in our readers of a certain taste and vintage. There's Lou Reed's seminal 1972 album obviously, and then there's Hasbro's ingenious robot/vehicle toys from the 1980s (we'll pretend the Shia LeBeouf films didn't happen, if it's all the same to you). In actual fact the true origin of this venue's name comes from the electronic devices that used to be made here in the days when the building was still abuzz with manufacturing.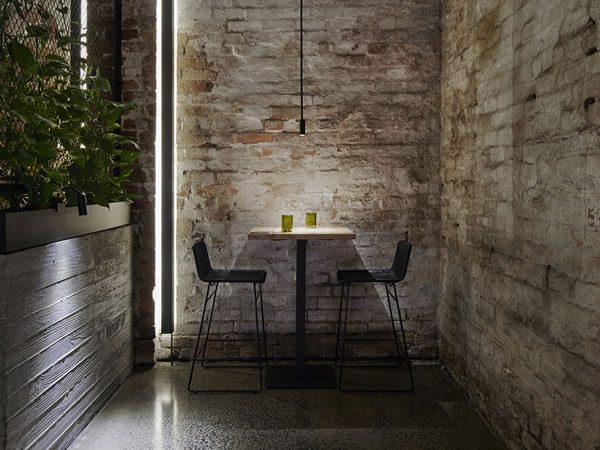 Now the Rose Street premises belongs to the chaps behind Panama Dining, Vegie Bar and Rice Queen, and they in turn handed the extensive transformation job over to Breathe Architecture (Jeremy McLeod, Design Architect and Bettina Robinson Project Architect).
The central concept for the restaurant stems from the pre-existing ivy-covered courtyard to the rear of the building, and Breathe continued the exterior combination of organic plant life and raw industrial materials inside. Planters have been used to partition the cavernous dining area into separate, cosier "plots", while the greenery itself pops against the raw concrete, pale wood and blackened steel materials. Chef Luke Florence's menu that takes the group's Vegie Bar philosophy in a more sophisticated direction.