Following in the esteemed footsteps of Sirs like Amsterdam's Adam and Berlin's Savigny, a Spanish Sir has arisen, in the shape of Ibiza's Sir Joan; Sir Hotels' opening up on the White Isle as they take their urban oasis to the beach.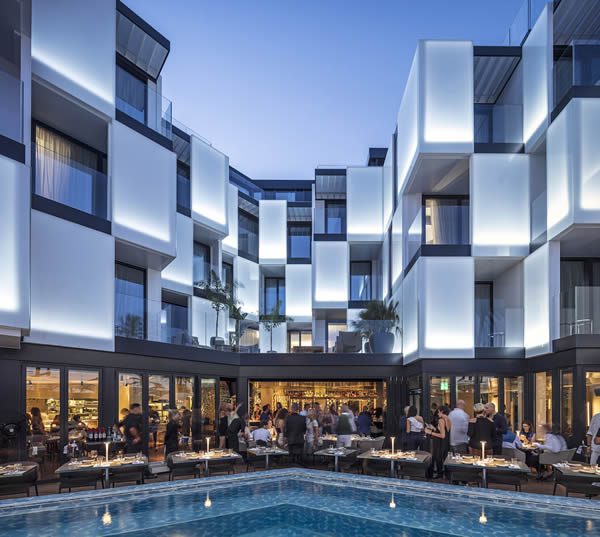 Located in Ibiza Town, facing the marina and boasting the old town as a backdrop, Sir Joan is a mere stroll to Talamanca beach, and surrounded by the the island's famed nightlife. In keeping with the brand's mantra that 'all sir hotels must reflect the ethos of the surrounding area' the hotel's interior design team, Baranowitz + Kronenberg, looked back to bygone days when free-spirited communities would meet to create music and art; establishing a hotel that emulates the openness of Balearic identity, and nods to its island location.
The 38 rooms and suites fuse intimacy with the luxury of yacht-life, stripped wooden flooring and polished stainless steel wall panels complement Sir Hotels' signature crisp bedding and contemporary furnishings. A balcony comes as standard allowing guests to soak up Ibiza's blazing sun, or relax with a glass of vino as evening draws in. Two penthouses boast 80 m2 wraparound terraces with 360 degree views of the town, outdoor seating, a private cabana and an open-air kitchen.
A ground floor communal space evokes a 'members only' social club, featuring a collection of curated artworks and the chic outdoor pool; seamlessly blending the outdoors with the inside. IZAKAYA Asian Kitchen & Bar — set to be the island's newest hotspot — offers diners contemporary Japanese cuisine fused with Peruvian flavours, whilst popular Amsterdam high end burger bar, THE BUTCHER, bring their award-winning patties to the Balearics, seeing revellers suitably fed through the long nights.