Dominating the first eight floors of Amsterdam Noord's newly-revived A'DAM Toren building, Sir Adam has finally flung open its dignified doors with all the upright decorum you might expect from a Sir. Although this knight of the realm is more Sir Paul McCartney than it is Sir Ranulph Fiennes.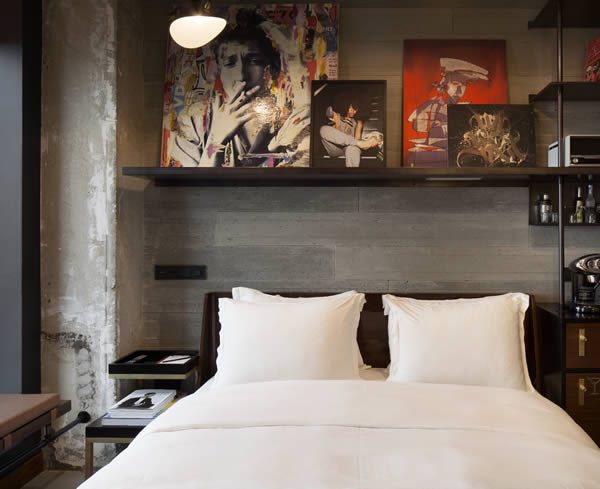 With 108 rooms spread over five categories and boasting floor-to-ceiling windows, Crosley record players, collections of vinyl and classic guitars lend this Amsterdam design hotel a musical note; informed by noisy neighbours like Sony and Gibson. Formed from an eccentric and experiential design concept, Sir Adam is a mover and a shaker with commanding views over Amsterdam's waterfront, the IJ river and the emblematic history of the city at larger.
Adam's industrial interiors were designed by New York-based design studio ICRAVE, who have put a creative use of colours to use; establishing a free-spirited atmosphere for our rocking aristocrat. The Hub replaces the traditional lobby, a space for guests to mingle in a co-working cum concept store setting with a choice of vinyl to plug yourself into — directly below is gourmet burger bar THE BUTCHER Social Club, which is rapidly making a name for itself as one of the city's hip 'hotspots'. A panoramic indoor-outdoor drinking den — aptly named The Beergarden — is reached by climbing an eye-catching spiral staircase, (perhaps not so easy to navigate back down), and shares a floor with The Studios; a flexible events space.
The latest offering from SIR (the dignified cavaliers behind design-minded hotels like Sir Albert and Sir Savigny), Sir Adam is a swinging addition to Amsterdam Noord's burgeoning cultural landscape.