Culture-forward neighbourhood café-resto-bar-bookshop, SYNONYM, invites its customers to browse a curated selection of rare art books in design-led surrounds, and all for the price of a glass of natural wine.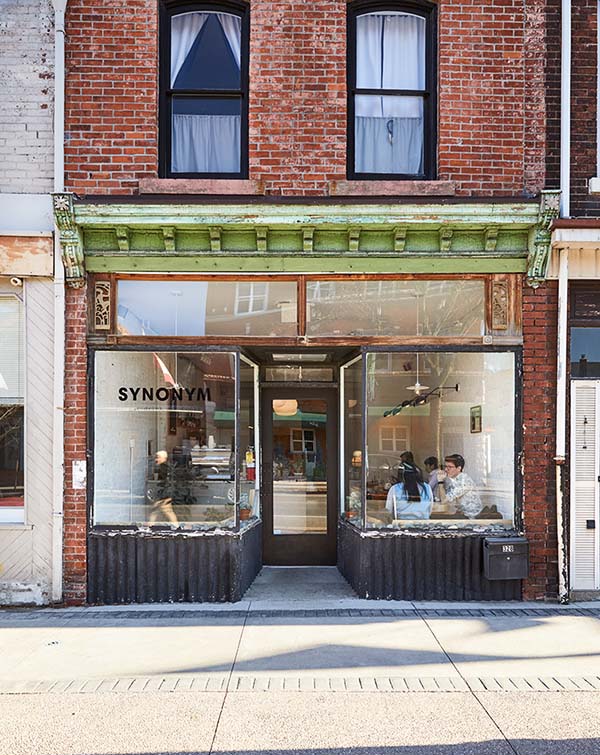 Founded by husband and wife duo Sid Singh and Ayisha Izmeth, the James Street North venue features a vegan/vegetarian menu from which everything is made from scratch using organic, natural ingredients that are rotated to reflect changes in season. And by collaborating with local bakeries—including Dear Grain and Cake & Loaf—the team are able to bring the best pastries and sourdough bread in Hamilton, Ontario, into the mix.
Montreal-based architects Atelier Barda were in charge of the eye-catching design, which fuses Scandi furniture such as Aalto chairs and Frama with pieces from Sid and Ayisha's favourite designers, which include two veritable design icons: French architect and designer Charlotte Perriand and Japanese-American artist Isamu Noguchi. Max Lamb, the brilliant British designer known for employing unusual approaches to using natural materials, is also represented; his modern classic Marmoreal marble (created in collaboration with London-based furniture manufacturer Dzek) used in SYNONYM's Insta-ready countertop.
With a passion for art and design books, the guys at SYNONYM work with small independent publishers like Dashwood NYC and IDEA on curating a selection of reads that is intended to spark creativity and conversation. "You can enjoy sitting on an Aalto stool, or touch the Marmoreal countertops; drink natural wine or browse through some very rare art books all for a price of a coffee," explains Singh of the essence of SYNONYM, "it really opens the door to art and design in a way that hasn't been accessible to the Hamilton public before."