There've been plenty of great interiors to grace the pages of We Heart that unfortunately you'd get locked up for trying to sleep in. There's often a sense of sadness that nobody gets to soak up the beauty of the countless handsome bars, restaurants and cafés once they've been locked up for the night. Out in one of Los Angeles's most treasured jewels — the historic Venice Canals — there is a quirky bungalow offering up a surprising compromise.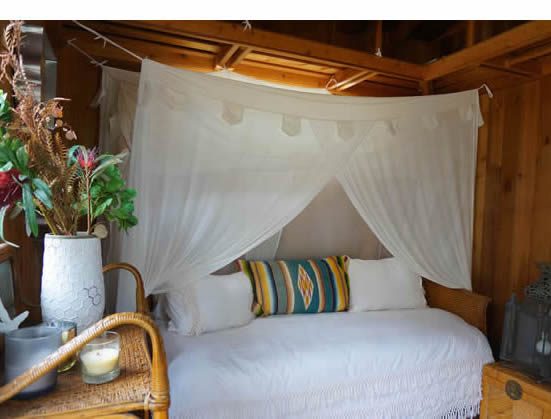 From Heather Tierney, the same creative mind as dual coast juice bar The Butcher's Daughter — with stylish outlets in New York's Nolita and West Village, as well as here in Venice — Bungalow and Breakfast is a true one-off; a two-bedroom bungalow kitted out in woven jute daybeds, hand-knit hammocks from Nicaragua, vintage record player, and dream catchers crafted by local artisans. The ramshackle Bohemian spirit of California's coastal design captured in its essence.
Tierney's juice bar and veggie café is within walking distance, hip Abbot Kinney with its fashionable boutiques, watering holes and eateries just steps away; although far enough for the delightful Bungalow and Breakfast to feel like an authentic hideaway. A terrace and summer camp style garden overlooks the Canals — which are the result of a madcap plan to create the Venice of America, conceived by developer Abbot Kinney over 100 years ago — filled with rattan furniture, it's the ideal spot to relax and recharge in the sun before tackling the surf a mere few blocks away.