Jouney is a Lebanese bakery cum café in the downtown area of Montreal; a snug but stylish spot that serves up an array of Mediterranean wraps, salads, and desserts alongside crafted coffees and beers.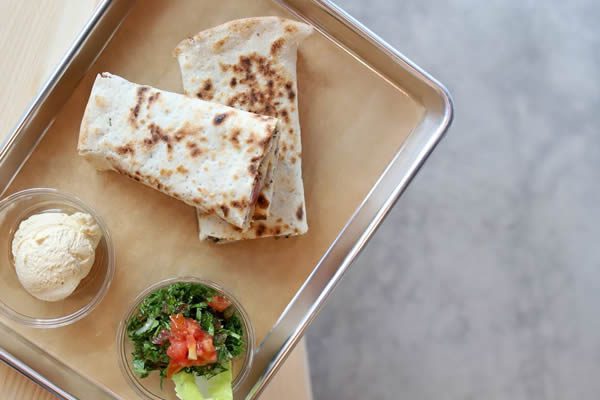 Taking its name from the owner's hometown Jounieh — a coastal city some 16km north of Beirut, renowned for its seaside resorts and bustling nightlife — the café was designed by David Dworkind, who used a simple material palette inspired by the tiled roofscapes of Lebanon; comprising ash wood, powder coated steel, brown leather, and terracotta.
A constricted entryway inspired side-by-side bench seating with swivel café tables fixed to the wall, whilst the long narrow shape of the restaurant called for an array of seating options from banquettes to bar stools. A perforated steel staircase leads to the mezzanine which overlooks exposed brick walls, cement pillars, and lashings of leafy green plants; all making for a stylish joint on St. Catherine Street from which to enjoy all that is authentic and indulgent in Lebanese and Mediterranean fare.