When you're boasting a menu that consists of little more than falafel and frites, you need to make sure you're doing your falafel and frites well. Judging by the amount of buzz surrounding stylish Montreal eatery Falafel Yoni, it appears that 'doing them well' is quite the understatement.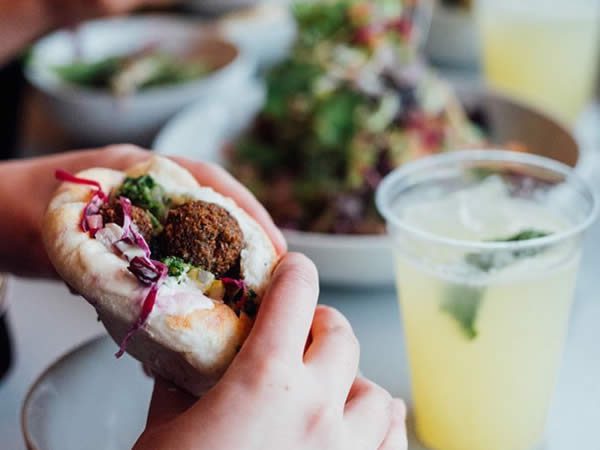 Located in the city's laid-back Mile End neighbourhood, surrounded by multicultural restaurants and cafés, independent stores and vintage clothes shops, Falafel Yoni's 12-seater venue (a limitation imposed by city regulations)—nicely put together by designer David Dworkind—has all the hallmarks of a typical American diner, its curved bar lined with simple salvaged school chairs, and retrotastic awning harking back to their golden age.
Its base covered in a dark red corrugated asphalt roofing, the curved bar breaks up an otherwise muted colour palette that has been inspired by a classic New Balance sneaker; an unfinished OSB lining levels out the space's previously uneven ceiling, whilst serving to conceal lighting and water supply for a central basin. Due to the fact falafel is eaten with the hands, Dworkind created that sculptural wash basin—made of rolled steel—as a focal design element, with curved pipes descending from the ceiling to custom faucets. (That's 'taps' in proper English.)
Simple but effective, Falafel Yoni hits the spot with design and desirability; its faultless falafel drawing plaudits from around the city.