Amsterdam West—a triangular area located west of the city centre and surrounded by greenery—is home to Romana, a new bar with a vibe set to steal your heart.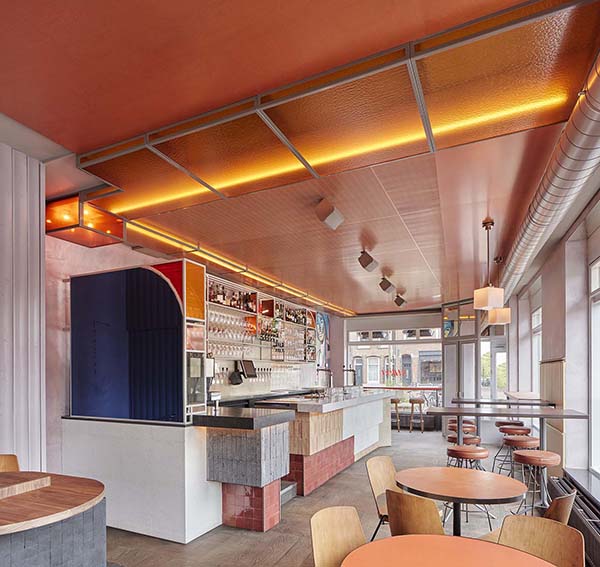 Designed by Amsterdam-based interior design studio Studio Modijefsky (whose previous works include Bar Botanique and Bar Basquiat on the east of the city, and restaurant Wyers set within hotel Kimpton De Witt), Romana is a refreshing addition to the Oud-West neighbourhood; a bohemian space that references the tradition of classic bars through the use of dark wood, stained glass, mirror finishes and layered materials.
Divided into four areas, guests enter through a welcoming bar space before moving onto the bright dining area where moody tones of smoked oak wood contrast against shades of lilac, dark red and an almost neon orange. Embracing features of the existing architecture, Studio Modijefsky took a geometrical pattern found in the original stained-glass top windows and used it as inspiration for the sculptural shape of the bar which was built out of beige travertine block, white terrazzo tiles and differently coloured bricks.
A lounge area and kitchen—the latter with bright orange panelling—follows the bar and dining space, and is where chefs rustle up a menu that nods to rock 'n' roll bistros—diners at this creatively-conceived space able eat from breakfast through to dinner; starting the day with health bowls and toasts, lunching on salads and sandwiches, enjoying a comprehensive snacks list and finally a dinner menu that includes oysters, bar buns, Korean chicken, falafel and ribs alongside frietje zoervleis (a regional meat dish from the Province of Limburg) or kibbeling (a Dutch dish consisting of battered chunks of fish, commonly served with a mayonnaise-based garlic sauce or tartar sauce.)
A lively spot where the change in scale and size of finishes lead guests throughout the space, Ramona and her beautifully unpolished character make for a fine new destination hang-out for hip Oud-West.
@ramona_amsterdam
@studiomodijefsky