Dude; His Dudeness; Duder; El Duderino … that is some house. Made famous as the home of The Big Lebowski's porn baron/loanshark Jackie Treehorn — along with several other movies and as a backdrop for photographers like Helmut Newton, Mario Testino, Ellen von Unwerth, and Philip Lorca di Corci — The James Goldstein House is set to become a permanent part of the Los Angeles County Museum of Art (LACMA) collection.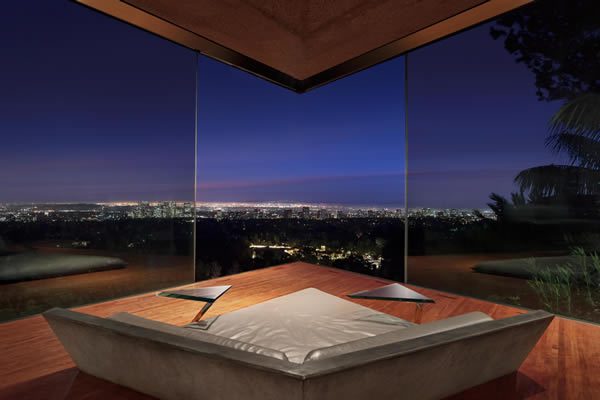 Built in 1963 for artist and doctor Helen and Paul Sheats, the John Lautner-designed home was purchased by James Goldstein in 1972; the eccentric NBA 'superfan' gifting the property, a $17 million endowment for ongoing maintenance, its contents, and surrounding estate to the L.A. art museum — to serve as an inspiration for future designers, act as a resource for students, scholars, and public, and promote the area's architectural heritage.
Always remaining tight-lipped about where his countless millions came from, James Goldstein's love of basketball and fashion is far from secret; the flamboyant design enthusiast clocking in over 100 NBA games a season, whilst repping an imitable courtside style. Goldstein is a big art fan too, works from artists like Kenny Scharf and Ed Ruscha and a James Turrell Skyspace, Above Horizon, in the landscaped tropical gardens just some of the gems (along with a mammoth clothing collection and a 1961 Rolls Royce Silver Cloud) being handed over to LACMA.
Frank Lloyd Wright disciple John Lautner worked with Goldstein from 1979 until his death in 1994 on improvements to the house, creating custom-built furnishings, and heightening the flow between indoor and outdoor. 'Over the course of many meetings with [LACMA director] Michael Govan, I was very impressed with his appreciation for the history of the house and the role it has played in the cultural life of Los Angeles, as well as with his vision for continuing that tradition when the house becomes an important part of LACMA's collections,' concludes the fashion and basketball aficionado.