Toronto pizzeria, North of Brooklyn, open their 7th property, the small chain setting up home at 1728 Avenue Road, Toronto, with a beautiful new restaurant built by Carbon Build, and brought to life by Montreal-based architecture and design studio Ménard Dworkind, who have achieved a contemporary re-imagination of the classic New York pizza parlour.
Fusing past and present, balancing nostalgia and modernity, the dining room emits a welcoming aura, the space light and bright thanks to the natural light that floods in through large windows, as well as the use of white-painted tongue and groove boards on the walls and ceiling. The floor tiles catch one's eye, juxtaposing against a large, wooden farmhouse table for communal dining, with banquette seating for smaller groups.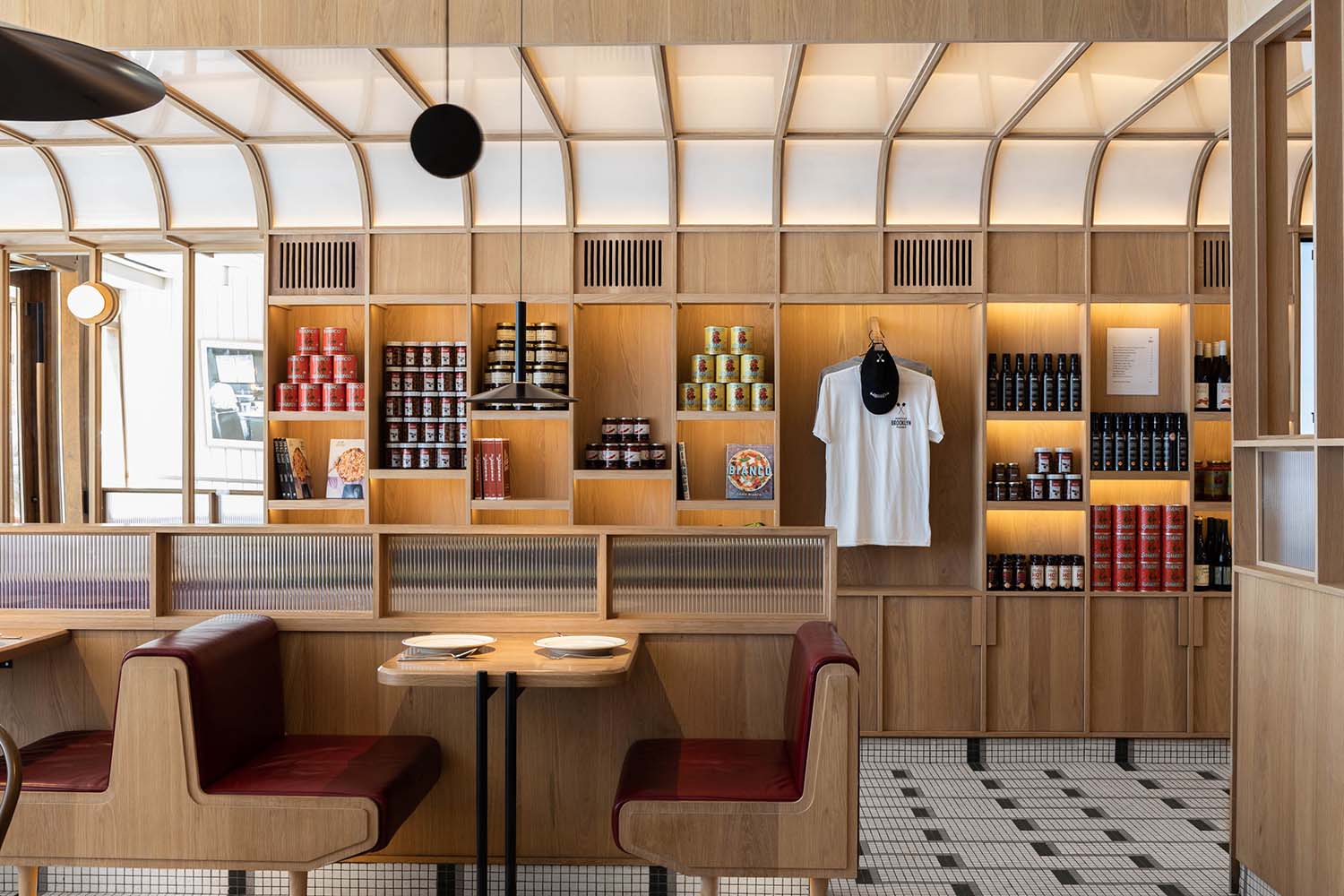 NYC's classic pizzerias are given a respectful doff of the hat, with photos of Di Fara, Paulie
Gee's, and Best Pizza found across the walls, whilst a curated wall of shelves pique the tastebuds, stocked with gourmet goods as well as branded merchandise and other pizza-related delights.
Renowned for their 14″ and 18″ pies with names such as Killer Bee, consisting of
Sauce, Mozzarella, Calabrese Sausage, Jalapeños, Pickled Red Onions, Oregano, Honey; and Truffle Shuffle with Mozzarella Blend, Smoked Cheddar, Truffle Cream, Cremini Mushrooms, Caramelised Onions, Chives and Lemon Zest, this Toronto-founded chain sure know their way around the topping-heavy New York style. With the design of the Avenue Road location harking to the home of those iconic pizzas, diners can delight in delicious pies and fine design, and enjoy an immersive experience that allows them to indulge in the delights of exceptional pizza whilst appreciating the timeless charm of the classic pizzeria aesthetic.
Authentic and inviting, Ménard Dworkind's ode to the pizzerias of the past is every pizza buff's slice of paradise.
@northofbrooklyn
@menarddworkind