Settling on the Fulton Market District, a gentrified area on the Near West Side of Chicago, The Hoxton have opened the doors on their third North American hotel (Williamsburg and Portland), the 182-bedroom property revealing a handful of firsts; including having been selected as the first venue to house The Hoxton's new co-working brand Working From_, and the brand's inaugural wellness studio.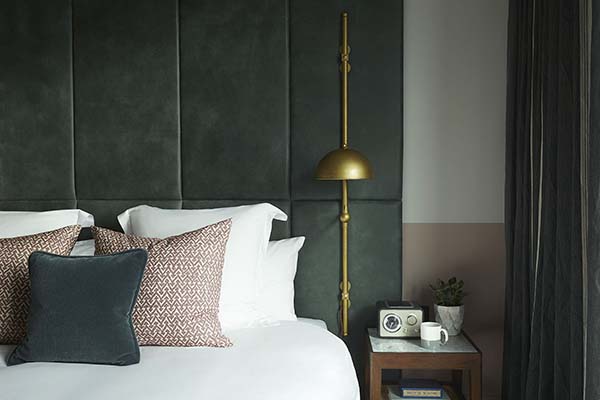 Situated on a site once occupied by a meatpacker, the hotel—surrounded by a vibrant offering of bars, restaurants, shops and cultural venues—offers the usual category of bedroom, ranging from Snug and Cosy to the larger Roomy, each reflecting the building's industrial past with floor-to-ceiling windows and warehouse-style windows. Designed by Ennismore Design Studio, mid-century furniture features alongside bespoke wallpaper, panelled leather headboards, locally-sourced artwork and a selection of books curated by the 'Hox Friends'.
To accompany the wellness studio, which will feature a rotating set of events, the rooftop pool—another first—will allow guests the opportunity to grab a respite from the city's hot and humid summer months, whilst those who are feeling peckish can chow down on fare by chef Stephanie Izard, her Peruvian-inspired restaurant Cabra Cevicheria also located on the rooftop, and serving a selection of fresh and uplifting Peruvian-inspired dishes.
In addition to Cabra Cevicheria, Cira will showcase a selection of Mediterranean flavours, whilst Lazy Bird—tucked away in the basement—is the spot to sip cocktails until late. The 'lobby culture' synonymous with The Hox is still very much alive and kicking at The Hoxton, Chicago, Ennismore Design Studio having collaborated with AvroKO to create happening communal areas that serve as a place to work, join forces with fellow nomadic creatives, learn and play.
With their welcoming open-door policy and typical bags of style, The Hoxton, Chicago, comes up trumps for the Windy City, and is set to stir curious locals as much as it is creative travellers.