The latest member of the Ace family has opened its doors — Ace Hotel Chicago joining Seattle; Portland; New York; Palm Springs; Downtown LA; London; Panama City; Pittsburgh; and New Orleans in celebrating each city's singular design heritage, culinary expertise and cultural renaissance.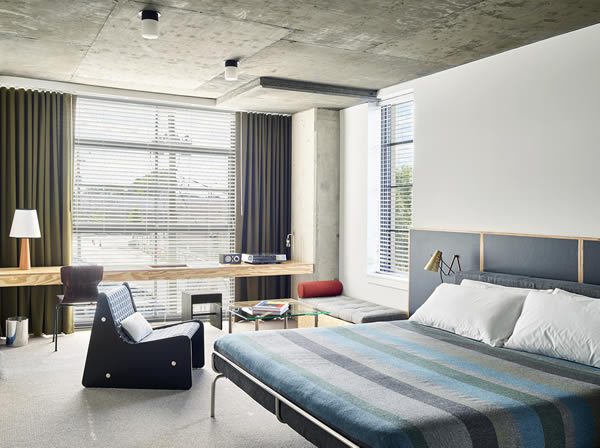 Located in the city's West Loop neighbourhood, the 159-room, 7-floor hotel's build was undertaken in partnership with local studio GREC Architects; who oversaw the conversion of the Los Angeles property and were keen to incorporate the spirit of the New Bauhaus over in Chicago by preserving the Fulton Market landmark cheese factory façade on the south side of the building.
Longtime collaborators, Los Angeles-based design studio Commune, were in charge of design, marrying mid-western craftsmanship with their noted utilitarian aesthetics, and opting for a simple colour palette; hand-woven textiles; natural leather; wools; and linens — a straightforward detail in materials that evokes Bauhaus icon Mies Van Der Rohe's work at the Illinois Institute of Technology. As well as grade-A design, art features heavily throughout, from the unique pieces found on the hotel's stationary, painted or hand-drawn by a student of the School of the Art Institute of Chicago, to the specially-commissioned works from the city's Volume Gallery; which play with texture, light, and shadow to engage the viewer.
The panoramic views of the downtown skyline from Ace Hotel Chicago are mind-blowing; rooftop bar Waydown now one of the city's best spots to sip on a sunset cocktail way-up. Although you can devour a selection of bar bites, those in search of something a little more refined can head downstairs to City Mouse, the hotel's signature restaurant; a collaboration with chef Jason Vincent (of Logan Square restaurant Giant) that offers a menu inspired by the traditions of the Midwest with an earnest respect for seasonal, fresh produce.
@acehotelchicago
@citymousechicago