Japan's expanding design/art hotel brand cum creative/social collective, BnA, have opened the doors on their third hotel proper, Kyoto the chosen location for the diverse platform's brilliant new BnA Alter Museum—a project that will explore relationships between art and the local community to develop a global network of creatives and provide guests with authentic experiences and an experimental cultural hub.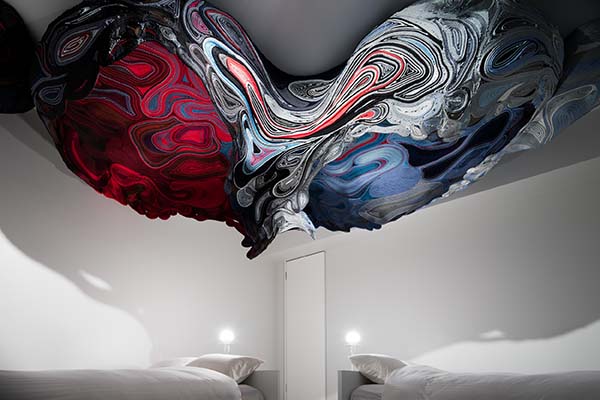 Ever wanted to know what it would be like to spend a 'night in a museum'? BnA Alter Museum gives you that opportunity—their first hotel outside Tokyo providing travellers with the chance to sleep in 31 permanent exhibitions by 15 Japanese artists; a ten-storey vertical gallery showcasing the best of Japanese contemporary art; and the city's hippest bar, whose constant parties will offer an experience not to be forgotten.
Following on from an initial Airbnb apartment project and Tokyo hotels in the neighbourhoods of Akihabara and Koenji, BnA Alter Museum Kyoto sees the 31 art rooms embrace a diverse range of mediums; from digital works and murals to interactive sound and light installations, each defying conventional notions of art in hotels, whilst exploring, challenging and pushing the boundaries of physical space and the 'art gallery' concept.
Open to both the public and visitors, SCG—a ten-storey, 30 metre-high vertical staircase gallery—exhibits provocative and engaging art from up-and-coming artists as well as better known local creatives. TO SELF BUILD by Akiyama Buku, Muku Kobayashi, Taro Komiya and Yumi Nakata is the inaugural show, the Japanese artists fuelling inspiration, imagination and interaction in an exhibition symbolic of BnA Alter Museum's "life sustaining metabolic process" and setting the bar for future SCG shows at this engaging Kyoto homestay.
The lobby is home to a museum shop and café/lounge that encourages guest and local interaction, whilst the 31 permanent artworks can be discovered by inquisitive travellers who want to find themselves fully immersed in an artist's singular vision; each dramatically different from the other.