Fashion, music, food and lodgings collide at Hotel Koé Tokyo, a complex in the commercial heart of Shibuya set over three floors and offering a new concept in hospitality. Calling their concept 'new basic for new culture', Koé is a lifestyle and fashion brand informed by the impact technology has had on our lives; its flagship a stimulating amalgam of retail space and accommodation.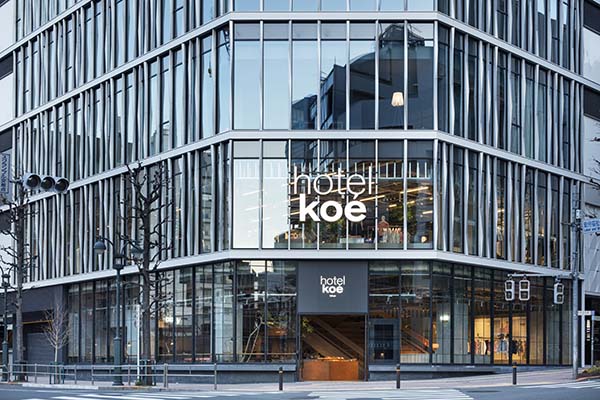 Designed by architectural firm Suppose Design Office, the first floor houses the hotel reception and koé lobby; an all-day bakery cum restaurant headed up by chef Satoshi Kakegawa (of the city's renowned Ata Restaurant) that draws in Shibuya's hungry and hip crowd daily. A bustling zone with a variety of seating styles—from a counter to sip drinks while leaning on the bar, to table seating—Satoshi's menu features baked breads, pastries and eggs in the morning, moving onto hamburgers, noodles and pasta at lunch, before a dinner offering of appetisers, main dishes—including ramen, steak and ribs—alongside a comprehensive dessert list.
Apparel and lifestyle products are found on the second floor, where credit card payment smart cash registers negate the need for humans in the digital age—Koé operating a staff-less, self-shopping experience. The third floor is where the ten guest rooms can be found, set over four size categories, and are teahouse-themed, minimal and embellished with moody charcoal grey walls and dark furnishings.
Surrounded by the neon and chaos of the world's most famous intersection, the Shibuya Crossing, Hotel Koé Tokyo revels in its singular diversity—where guests can listen to curated soundtracks whilst dining on the lower floors before heading upstairs for a restful nights sleep amid calming interiors a million miles from the madness outside. A fascinating and monumental project.