Our flat whites arrive as we're busy circling numbers and underlining names in biro on a pocket-sized map that spans all from a candle shop whose doors opened in 1789 and Luvaria Ulisses, a glove store with space for just one customer at a time to occupy its '20s art deco interior, to contemporary art spaces and here: Copenhagen Coffee Lab, where we're busy seeing how many spots we can tick off on our way to Miradouro da Senhora do Monte, one of Lisbon's highest points.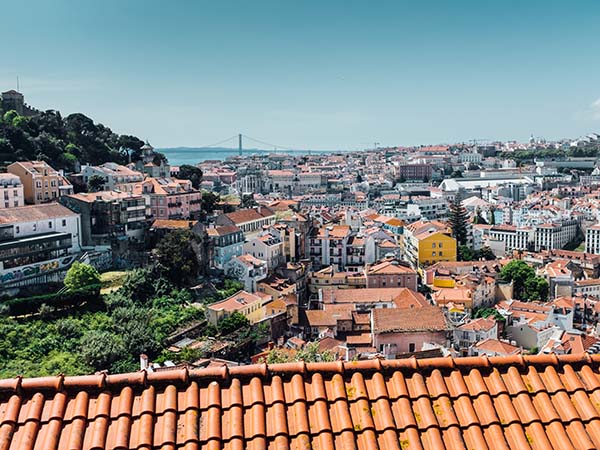 It quickly becomes apparent that The Lisboans' city map is quite unlike any other you'll find in a hotel lobby, and it's an indication of the level of attention that goes into every detail here in this live-like-a-local apartment concept. Focussed upon its neighbourhood, but extending out to highlights at the city's edges, following the guide gives you a sense of being incorporated into the community of Portugal's endearing capital. In an area where old and new regularly collide, encountering the landmarks, cafés, galleries, shops and restaurants they're proud to call neighbours instantly makes you feel at home. Lisbon is a welcoming city, The Lisboans its open arms.
Housed in a former preserve factory on a steep street close to both the Baixa and Alfama neighbourhoods, The Lisboans is a designer crash pad that embraces that coming together of old and new; traditional Portuguese curiosities fused lovingly with modern aesthetics and contemporary home comforts. With 15 apartments to choose from—a mix of one and two bedrooms split into comfort, superior and deluxe categories, along with a stunning penthouse—The Lisboans allows those who cross its threshold to experience the city in its truest sense.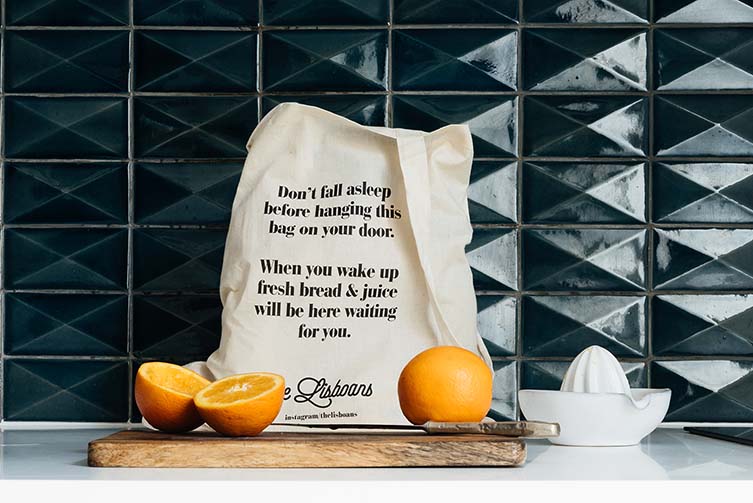 This is never more apparent than when you awake each morning to find a breakfast bag hanging outside your apartment door. Packed with fresh bread and pastries (and coupled with the fact that your stylish kitchenette is already stocked with granola, ham, cheese, jam, yogurt, milk and a selection of teas and coffee), it enables guests to enjoy long, lingering breakfasts at their own pace.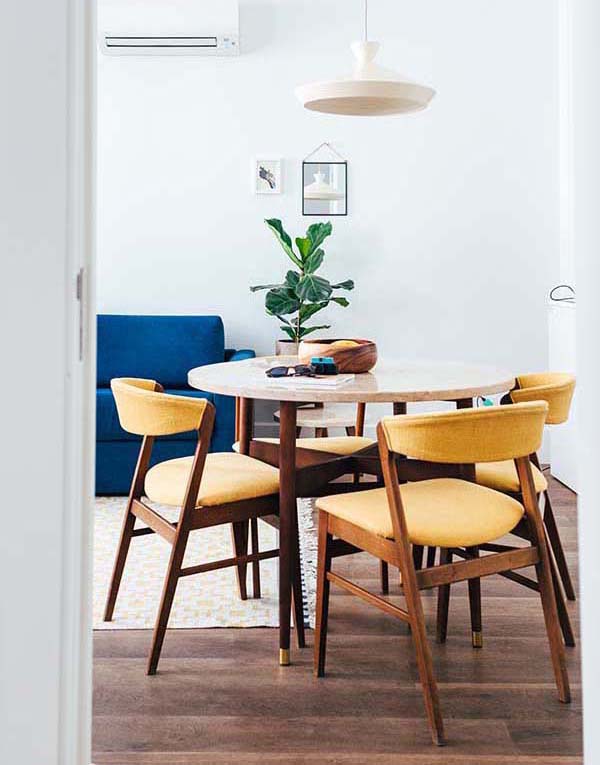 Advocates of the slow living trend, your morning bag ensures there are no set breakfast hours at the Lisboans, instead you eat how you would do at home (exemplary fresh pastéis de nata aside). With the radio on in the background and the window wide open, letting in the sounds of the bustle on the street below, The Lisboans do that whole home-away-from-home exactly how it should be done.
Having sat derelict for some time, three triplet sisters and one husband fell in love with the 19th century construction, realising its potential and setting about converting it into a modern apartment where Lisbon's centuries of style coalesce. Each apartment displays unique interior design from the vintage and contemporary furniture to customised splash-back tiling in the kitchens; Portuguese folk art to handcrafted textiles made by the country's artisans.
Our room—with views out to cobbled Travessa do Almada below—boasts large windows that allow ample natural light to flood into the subtly designed room; greenery, walnut and soft yellow lend the warmth of natural hues to the bright white walls; whilst vintage and custom furniture continue that story of old meets new.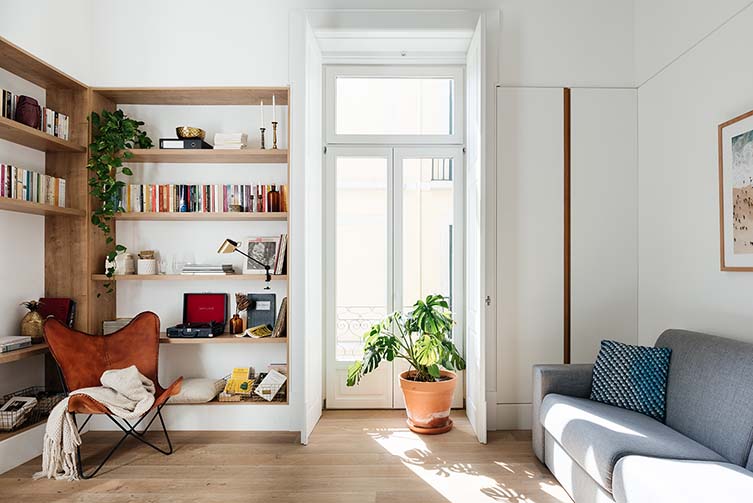 The bathroom—a very decent size for city living—offers a large walk-in rain shower and The Lisboans signature amenities; which feature containers of shower gel, shampoo, conditioner and body lotion. Each corridor showcases a different little curiosity that may have either been picked up at a local flea market or designed specifically for the property, many passed down through the families of its owners, whilst a mural by street artist AKACORLEONE fills the entirety of an outside wall viewable from the hallways.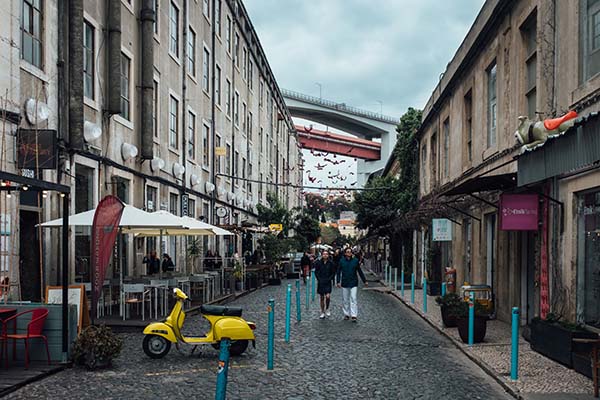 Back out on the streets, and day two sees us take a stroll out west through several neighbourhoods dominated by divine architecture to LxFactory, an industrial compound turned culture-forward centre packed with retail outlets, cafés, bars and restaurants. And, naturally, an abundance of street art to boot. Sitting under Ponte 25 de Abril—Lisbon's vast Golden Gate-style suspension bridge—the creative complex is indicative of the buzz that surrounds this city and, naturally, it is our trusty map that has led us here; other top recommendations ticked off along the four kilometres we've covered to arrive here.
An all-encompassing experience thoughtfully and stylishly curated, the project also extends to grocery store Prado Mercearia, and its sister farm-to-table restaurant Prado, both located downstairs. Here guests can buy local produce including pickles, jams, chutneys, sardines and wine. And, when they're done with cooking for themselves, enjoy a lunch or dinner in what has become a true darling of Lisbon's foodie scene.
Design- and culture-conscious travellers seeking comfort and privacy will love The Lisboans, its owners knowing inside-out the type of guests who'll set foot through their front door and return time and time again. If you travel to feel destinations rather than to simply see them, you'll not uncover many a hospitality project that understands you better.