Located amid blocks of flats and modern residential buildings, Gdańsk's Bio Piekarnia Ziarno attracts a diverse crowd of staunch locals, students, and the casually intrigued. A bakery cum café, BPZ is a place to pick up your fresh bread and organic food; before enjoying a breakfast, cup of coffee, or lunch while you're at it.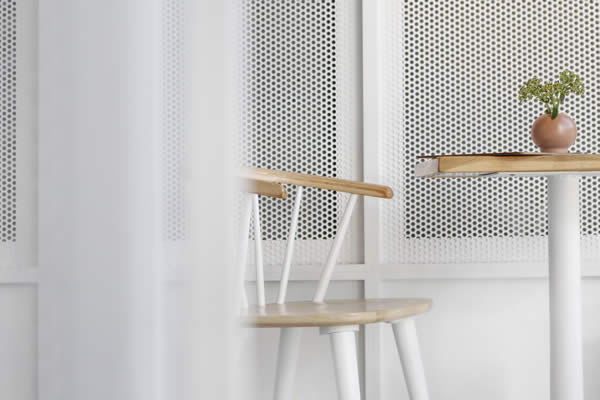 In stark contrast to its surroundings — one of the oldest neighbourhoods in the Polish port city, dominated by flats built during the country's communist era — Bio Bakery features contemporary interiors designed by Roksana Dobrzyńska of NORstudio, and designer Ula Schönhofer; two women whose passion for sleek and minimalist interiors is overtly apparent here.
The use of light tones and natural material not only give Bio Piekarnia Ziarno a design-mag-aesthetic, they contribute to the establishment's ethos of leading a healthy lifestyle with mindful eating, and a slow food philosophy. Seasonal produce determines the daily changing menu, which is scribed on a blackboard surrounded by wooden shelving and lush foliage.
From the exposed concrete walls to the steel sheets and white tiled counter, housing a selection of daily treats, the cold industrialism of the post-war Soviet age is harnessed but softened in a space that fuses a utilitarian approach with a considered natural slant.