You're walking along Dom Pedro V—a street between Lisbon's Bairro Alto and Príncipe Real neighbourhoods, lined with some of the city's more modish bars and eateries—when a crowd of people holding a tall glass of pisco sour come into view.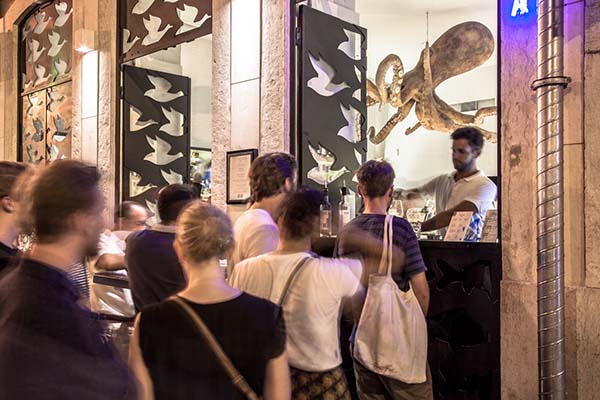 Cocktail in hand, or patiently waiting at a hatch on the street, they're huddled outside a space which upon further inspection turns out to be a petite restaurant with a giant octopus hanging from the ceiling. A Cevicheria, now a part of Lisbon's DNA, is the brainchild of Portuguese chef Kiko Martins who travelled the world on a discovery of gastronomy from across the continents before eventually returning to his home country's capital with an abundance of ideas and new techniques to offload.
Today, A Cevicheria features in many guidebooks, which—combined with a 'no reservation' rather 'next in line' system—means those queues get somewhat lengthy as locals and travellers alike vie for a table at this esteemed destination. It's worth it though. Once inside, diners are seated at individual tables lining a side wall or at the curved bar overlooking the chefs creating magic underneath that giant octopus. Recently renovated, we joined the hordes of cocktail-clutchers and prepared to be marvelled.
The food at A Cevicheria is a real bolt of brilliance for the palette. Second pisco sour in hands, guests choose from an à la carte or tasting menu, whereby the chefs prepare six plates per diner depending on seasonality and fresh ingredients. Inspired heavily by Chef Kiko's time in Perú, the menu is—as the name suggests—created around the traditional Peruvian dish of ceviche, and is infused with a Portuguese touch. Dishes are faultless and creative, those Peruvian flavours dancing around the mouth with tang and zest.
We burst through ceviche scallops, gazpacho and tapioca pearls; a beetroot tuna ceviche; melt-in-the-mouth octopus arm; a quinoto with thick white fish and octopus foam; and more. We wash it all down with a bottle of their eponymous white wine created in collaboration with Chef Kiko and José Bento, which features a selection of Viognier, Marsanne, Arinto and Fernão Pires grapes to create a crisp tipple perfect for the light and delicate flavours the food ripples with.
Nothing is rushed and the service is attentive and friendly, a bustle surrounds you as chefs plate your dishes in front of you. Each course is cooked with precision and flair; classic flavours are coupled with delectable surprises and offbeat touches like popcorn accenting your barbecued octopus. It is fun and unpretentious and the diners lap up every bit of brilliance served up. Young and old, locals and travellers, A Cevicheria is an expression of Lisbon at large—a star of its culinary scene.
An intimate space that devotes itself to South American flavours and Kiko's flair, A Cevicheria offers an authentic dining experience with style and sours. An unforgettable experience, a guiding light for its city, look out for the crowd…
@a_cevicheria_chefkiko
@chefkikomartins