Located within Ghent's Zebrastraat—a social housing project cum culture and conference centre—the XYZ Lounge serves as a focal point for the venue, a blisteringly beautiful space that its designer, Didier Faustino, says "questions the contemporary notions of conviviality and physicality."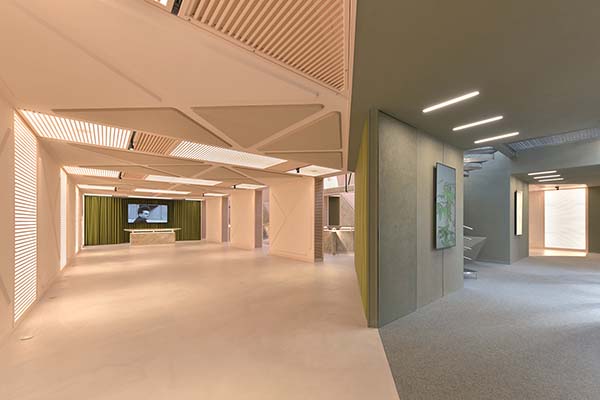 Set over a 360m² surface area and spanning three spaces—an open area for events and parties, adjoining bar, and small open space with access to a terrace—the French architect has clad XYZ Lounge with marble panels, textile ceilings, lighting surfaces, and wood claddings. Custom-made furniture includes marble counters, islands and suspension lights, high tables and chairs, and rotomoulded seats in polypropylene.
"During a time where social, sexual, and gender identities are upturned and questioned, how may one provide a space which is both neutral and sensual, a space free from social markers, without tailoring to a singular identity?" Faustino posits. By throwing convention to the wind and turning out a perplexing vision of futuristic interior design, would seem to be the answer—the designer taking visitors to Zebrastraat on a sci-fi ride through sensuality where the space feels like it could have a life of its own.
"The XYZ Lounge has been conceived as an interstice-space offering a new form of physicality and identity, a space of convergence and interaction where temporality is suspended," Faustino continues. "It is a space conducive to physical trajectories and a certain form of eroticism, at the centre of which the bar spreads out, the spot of connections and disconnection, the anchoring point where people come and go. The XYZ Lounge, conscious of its duality, projects us into a romanticism of science fiction, crossing over into an unknown yet familiar elsewhere."
Industrial leanings meet glamorous intent here in Ghent, as Faustino's 'erotic science fiction' takes traditional notions of design to dizzying new heights. A true outré masterpiece for a new age.