Located in the 10th arrondissement in a listed building opposite the Gare du Nord train station, 25hours Hotel Terminus Nord bestows Parisian flare, dizzying colour and convenience upon its guests—its 237 bedrooms bringing in a veritable mixed bag of African and Asian style elements alongside all the modern amenities an urban nomad's heart could desire.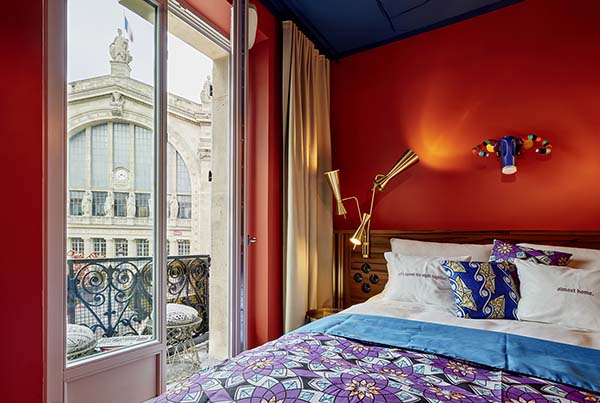 Parisian architectural firm Axel Schoenert Architectes created the building's design, thoughtfully renovating it to blend in with the colourful and diverse neighbourhood in which it's located—the result being that 25hours Hotel Terminus Nord is a welcoming and inspiring place for both today's modern traveller and likeminded locals drawn to the diverse communal offerings on hand.
Expressive and imaginative, the ground floor reception area is a sociable hub where guests chat among themselves and peruse the kiosk, a space that sells personal items, goods of design interest from the hotel rooms, and a selection of books, magazines and other bits and bobs selected for the hotel and made by 25hours affiliates and friends. A large staircase conceptually connects the ground floor entrance area and leads to a small lounge where a vintage Citroën Acadian and wall art by VISTO bring the atmosphere of the 10th arrondissement straight into the property.
Weaving an eclectic brand of eastern Mediterranean cuisine, NENI—created by the Molcho family, who have successfully integrated the restaurant into other 25hours hotels—encourages communal eating and the sharing of food; celebrating pleasure and the sampling of as many dishes between friends as possible. Start with Oriental plates before moving onto a hummus platter with tahina, roasted cauliflower and the likes of the Jerusalem Platter, or sabich, a street food speciality from Tel Aviv with baked aubergine, hummus and tomato salad all presented with passion yet zero pretension.
At the SAPE BAR, guests and locals can work their way through a craft beer and cocktail list alongside great wines and spirits. Dark oak flooring, heavy dark green curtains and comfortable leather chairs ensure a gentlemen's club atmosphere, and for those who explore a little further, the adjacent Speakeasy Bar accommodates up to ten; a snug little spot for those seeking a little privacy.
Having opened hotels across important European cultural hubs such as Berlin, Cologne, Frankfurt, Zurich, and Vienna, 25hours Hotels come up trumps again here in the French capital; all the bold gusto and flair of Paris mainlined into their familiar concept of experience-led spaces with spirit.