Located in the former home of Gerling Insurance Group, 25hours Hotel The Circle is now the total opposite of the stuffy aesthetics and atmosphere that one might associate with an insurance company. Instead, the 207 room Cologne design hotel is another example of the 25hours group's hedonistic approach to style—what is billed as "the 1950s meets a technical utopia in the ambience of a listed building, excitingly restaged as retro-futurism." Quite.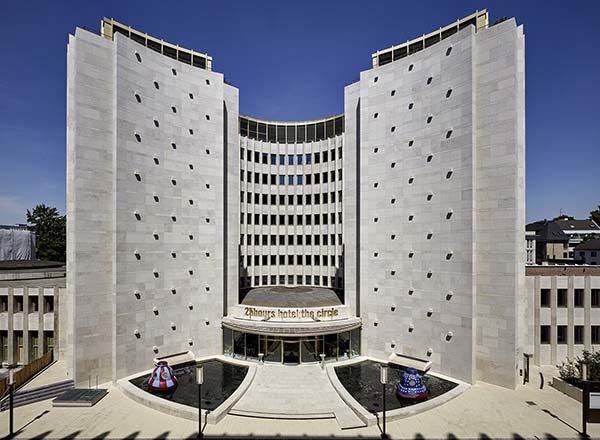 The first Cologne property for the 25hours brand—founded by Stephan Gerhard, Ardi Goldman, Christoph Hoffmann and Kai Hollmann in 2005—brings to the western German city the same personality, charm and unhurried service that the chain has grown renowned for, alongside authenticity and that idiosyncratic individuality in design.
With architectural renovations carried out by O&O BAUKUNST and interiors by Studio Aisslinger, The Circle tells a story of architecture and time, its rooms a mix of futuristic 'Inner Circle', with open-plan bathrooms, and 'Outer Circle', retro in design and offering views of Cologne from showers located behind the beds. Explore the hotel and you'll happen upon an eighth floor restaurant and bar that pushes the retro-futurism of The Circle to its limits. Serving east Mediterranean cuisine in an extension of the listed building, floor-to-ceiling windows offer sweeping views over the city and the Monkey Bar located in the opposite rotunda.
Centrally located and offering a retro-futurist aesthetic like nothing else in the city (and beyond), whether in Cologne for work, play, or both, make sure you keep 25hours Hotel The Circle on your '50s-inflected spaceman radar.
@25hourshotels
@studio_aisslinger