Taking its name from Israeli markets, Bar Shuka—located within Frankfurt's 25hours Hotel The Trip—is a restaurant and sake venue that harks to oriental marketplaces with their "chaotic, show kitchen." Amid the chaos, classic Middle Eastern dishes with a regional Frankfurt twist and touches of Yiddish cooking are rustled up in style.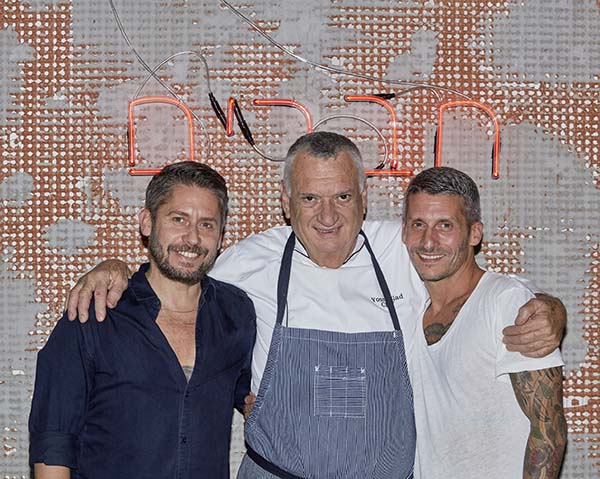 Quite the combination, then, something owners David and James Ardinast (of projects like Showmanship and Louis Pretty) refer to as 'New Tel Aviv Cuisine', owing to the Israeli city's food culture, which they describe as "a conglomeration of Arabian dishes, memories of Jewish grandparents' recipes and culinary trends from around the world." Diners at Bar Shuka can devour plates such as freshly-baked pita bread straight from the oven, Jerusalem kebab over an open fire and healthy dollops of Gruene Sosse, a green salsa packed with Mediterranean herbs and bags of flavour.
Renowned chef and restauranteur Yossi "Papi" Elad—the 70-something culinary mastermind behind concepts like Machneyuda, Jerusalem, and Palomar—is heading up the kitchen, which has capacity to attend to up to 150 covers per service between an indoor and outdoor section; diners choosing from a four-part menu that includes The Shuka, The Butcher, The Fisherman, and The Farmer.
Concealed behind a secret door in the hotel's courtyard, MORGEN INTERIORS and Michael Dreher have designed a space that reflects the harmonious clash between old and modern cultures. From raw brick walls, a Reseda green ceiling and blue tiled floor, to large neon artworks and lampshades made out of baskets from Tunisia, or mouth-blown glass pieces from the Czech Republic, Bar Shuka is a hotchpotch of flavours, textures, and aesthetics. Somehow, though, this carefully-curated chaos works; the Ardinast brothers taming the madness of the market with bucket-loads of style.