In stark contrast to the long and harsh winters Montreal is known for, hip restaurant and bar Jack Rose is a a tropically-themed haunt for all those laid-back and artsy folk that make up the city's Mile End quarter.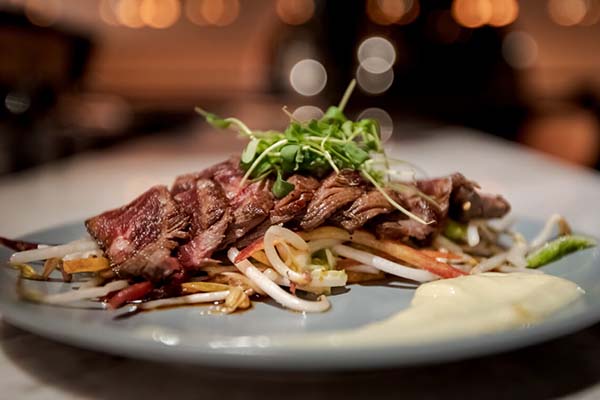 Located on boulevard Saint-Laurent in an old auto repair shop, the ambience here is a jovial as the decor—the space at Jack Rose split into distinct areas for dining and drinking. Designed by local architecture firm Ivy Studio—and in keeping with the tropical concept—the revelry is centred around a central bar adorned with pink seating and lush greenery; whilst exposed structural steel beams hint at the building's former life.
Different textures and colours feature throughout the space, from a natural pink lime plaster that wraps itself around the room to backlit smoked mirrors—organic materials such as black-stained wood encourage guests to move around the different areas as the evening progresses; subtle contrasts lend an air of intrigue, and Instagram fanatics will be drawn to the venue's alluring space-age crescent.
The ideal spot from which to gaze smugly at the snow outside, you can set about devouring a menu that consists of tartares, tatakis, carpaccio and plenty more; Jack Rose a sophisticated spot of escapism with moody allure.