New Honolulu boutique hotel Wayfinder Waikiki is home to 228 design-centric guest rooms, a hidden poolside oasis, and what some call 'the island's best' poke.
Wayfinder Waikiki is the sister property of Dovetail + Co's Wayfinder Newport, and has been designed by interior design studio The Vanguard Theory, who have embraced the Brutalist architecture of the building's roots whilst fusing it with tropical touches, vibrant colours and patterns, and lush foliage specific to the island. As a nod to Hawaii's rich diversity and multicultural fabric, touches of Hawaiian, Japanese, Chinese, Portuguese, Filipino, and European details can be found throughout the hotel's public spaces and within the guest rooms.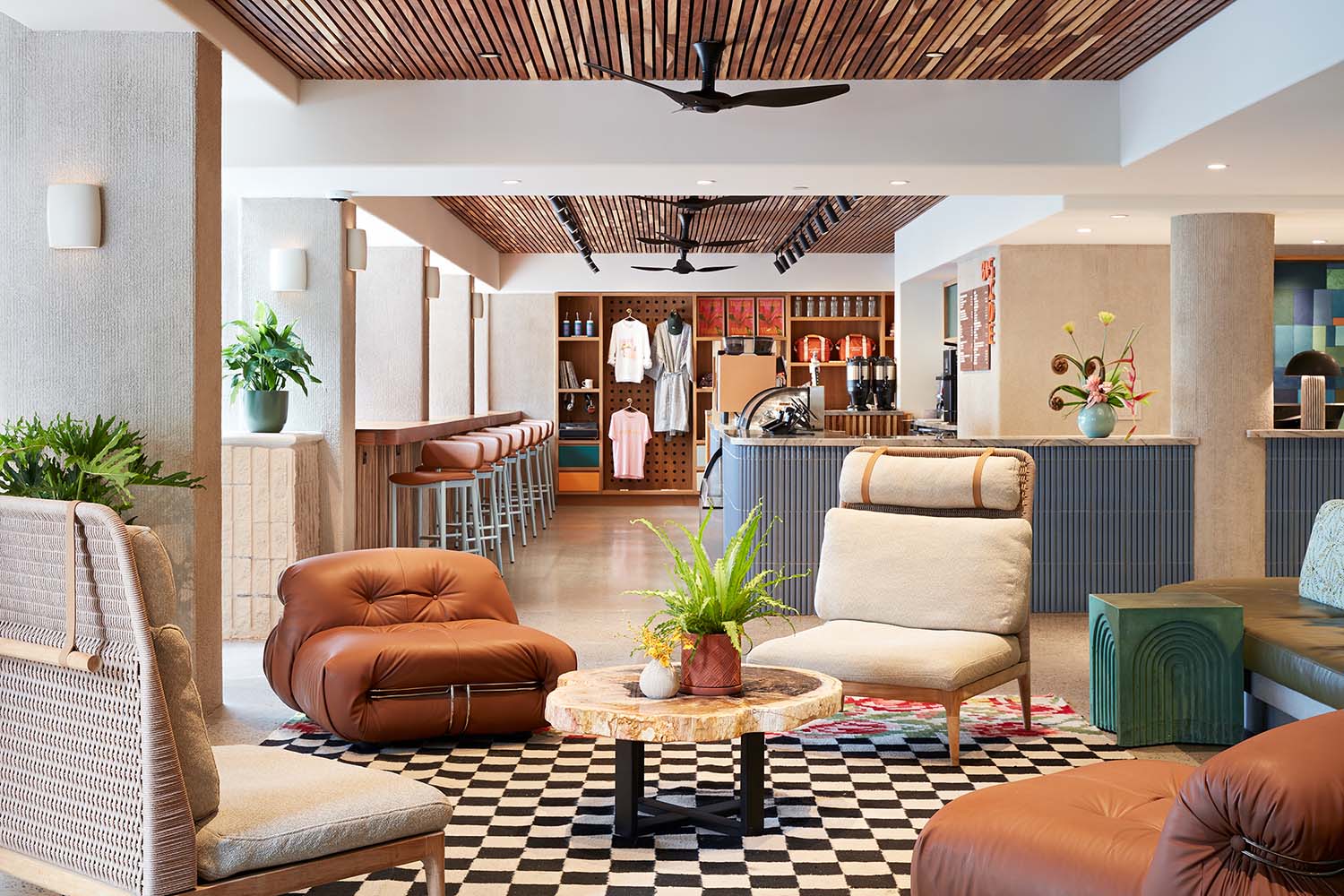 Inspired by the sites, stories, and heritage of the island, those staying in the the poolside studios or spacious bedrooms will notice a colour palette of green, coral, earth brown, white and blue alongside selected design pieces by local artists; including Polynesian-inspired tribal prints and bedside pendant lamps laced with Pikake and Pakalana flowers. Traditional to Hawaii, rooms offer private lanais with views over Honolulu city, Koolau Mountain Range and Diamond Head Crater. The Penthouse suites, meanwhile, provide fitted kitchenettes and large private lanais with sweeping views of Ala Wai, the Leahi Mountains, and the Pacific.
A 70 foot saltwater lagoon pool keeps guests cool alongside Lost + Found, Wayfinder Waikiki's tropical speakeasy and pool bar, as well as Redfish Waikiki, the island's beloved poke bar.
Blending immersive design with home-grown talent in a mindful and multilayered hotel experience that surfs the wave of Waikiki's vibrant and free-spirited energy, Wayfinder Waikiki is a new hospitality concept for the island of O'ahu, and another feather in the cap for the expanding collection of Dovetail Hotels.
@wayfinderwaikiki
@thevanguardtheory