Gather your friends for a makeover and chit-chat at colourful new Montreal beauty refuge, Le Hideout. Located in Griffintown, an area renowned for its creativity and old warehouses, the salon—a modest 650 sq ft and geometric in shape—offers an array of wellness and beauty services at the base of one of many new condo buildings being erected in this hip part of town.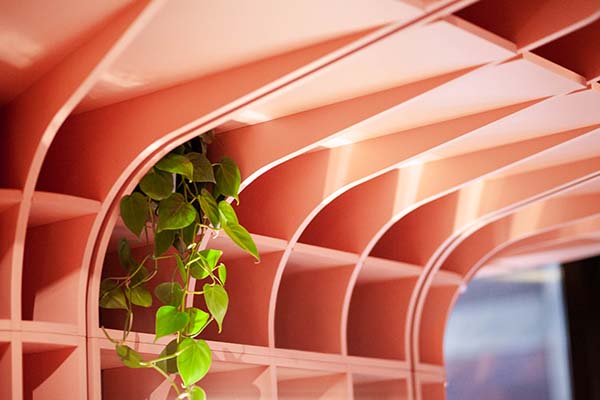 Working to a tight budget, designers Ménard Dworkind architecture & design were forced to be creative—especially when it came to an existing large concrete column taking up the majority of the central space. Using it to their advantage, the designers established the new layout around said column; using it as both focal point and storage facility for the manicure, pedicure, and makeup stations.
In keeping with the surrounding industrial vibe whilst adding the relaxation aspect that a salon requires, the raw concrete floor and steel counter tops have been softened by Douglas Fir wall panelling and a warming pastel colour palette. Throw in pink Structube chairs and IKEA sinks as pedicure basins, and Ménard Dworkind's tight budget belies the alluring atmosphere they've conjured here at Le Hideout with seemingly effortless aplomb.
With considered attention-to-detail and an ability to fuse on-point trend with a more timeless style, Montreal's fledgling design studio have delivered another beauty of a makeover in fitting surrounds.