Deep in the laid-back bohemian Helsinki neighbourhood of Kallio, bakery cum wine bar Way is a stunning, minimalistic spot where ingredients and produce play centre-stage in a venue that exudes Finnish design sensibilities.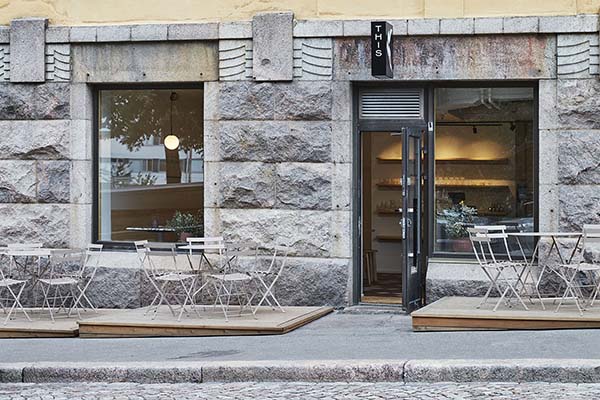 A former dental practice with vinyl floors and lowered ceilings, it was the role of Studio Joanna Laajisto—who would lead a dramatic refurbishment that has resulted in returning an authentic brick and mortar feel; paying tribute to the original architecture which dates all the way back to 1910. "I wanted to create a minimalistic place where the quality of the ingredients used would be in the starring role," reveals Laajisto.
With that concept whereby the interiors would complement the food and drinks served, lead designer Laajisto has achieved her minimalism with carefully chosen accents such as marble table tops, stainless steel counters, and purple veining. Custom-made ash woodwork was included to convey the natural essence and high quality of the kitchen's output; two of the team at Way are behind Michelin-starred Restaurant Grön.
That team—Lauri Kähkönen, Toni Kostian, Toni Feri and Lauri Pipinen—possess a vast knowledge and experience of the hospitality business; Feri running a natural wine import business and Pipinen a notable name on Helsinki's thrid wave coffee scene. Way opens daily from 7.30 am, and serves up mouthwatering breakfasts that include overnight spelt porridge, sourdough bread with burrata, and persimon with elderflower honey—before transforming into a wine bar until late, serving seasonal, organic ingredients from Scandinavia and Southern Europe alongside a natural wine list.
For those on the go, do not fear … Way bakes a selection of breads and pastries to enjoy on the hop or at home. But can you really resist going all the Way and passing a few hours in this holistic environment with its dedication to design and natural philosophy?
@waybakeryandwinebar
@joannalaajisto