*Permanently Closed
This particular We Hearter struggles to eat without napkins; paper towels; serviettes; kitchen roll; tabloid newspapers … anything. He likes things messy. And messy just hit Barcelona. Folk from London Town will be familiar with Soho House's sister restaurants, Chicken Shop and Dirty Burger, which do very much what they say on the tin; leaving a trail of mucky diners behind them — at venues around the British capital — the duo have come together under one roof in another famous capital.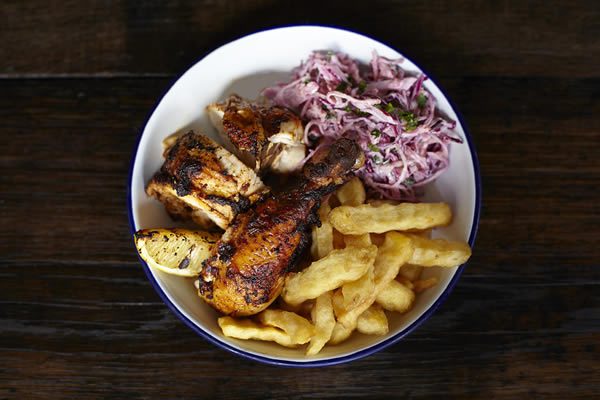 Barcelona is not as awash with high-end American-inflected diners as London, so we donned our bibs and headed down to the edge of Gótico to indulge. For those unfamiliar, let's break it down: Chicken Shop steams its birds (marinated overnight in a secret recipe), then spit-roasts over charcoal. They are served quartered, halved, or whole. Sides include crinkle-cut chips, life-affirming slaw, and corn on the cob. Sauces hot and smokey. That's it. Dirty Burger? Dirty w/ cheese, Dirty w/ bacon (a big fat slow-cooked slab of), Dirty Cop-Out (veggie, forget I even mentioned it.) Desert? Some other things (it really doesn't matter) and a deep-filled apple pie. My god, the pie. Cocktails: Tommy's Margarita, Bourbon Sour, Old Fashioned. Craft beers. If I don't wake from this coma, I had a good life.
It all happens in a very cool long, narrow, dimly-lit diner, put together by Soho House's in-house team (the creative class international member's club is set to open nearby very soon), and is informed by the American general stores of the 1950s. It's a slick look, and a slick fit-out, with some sweet little touches … you could be in Shoreditch, or Manhattan, but you're not, you're in Barcelona, which means there's an alfresco terrace with 40 covers to add to the 80 that bump up to the open-plan kitchen inside.
Bib up, dive in. P.S: you're not doing it right unless you're wiping smokey sauce out of your eyebrows after sleeping for 24 hours straight.