Boasting UNESCO World Heritage status and dating back to 1521, the Cathedral of Our Lady—a Roman Catholic basilica in Antwerp known for housing significant works by Flemish Baroque painter Peter Paul Rubens—may now be attracting churchgoers and tourists simply seeking to unwind or socialise in unconventional surrounds.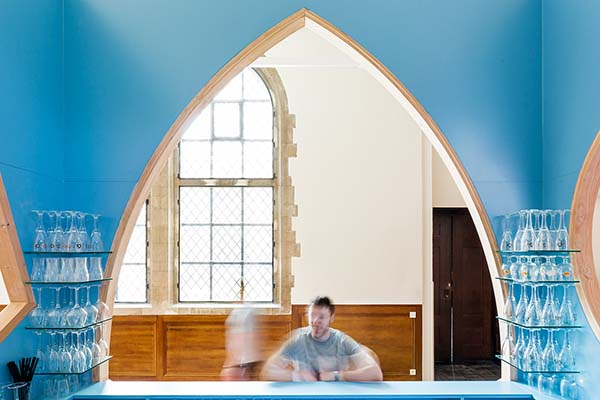 The bars, cafés, or restaurants of significant tourist attractions—particularly religiously-orientated ones—might not typically scream irresistible style, but here in Antwerp we have somewhat of an anomaly. Located in the former Chapel of Saint-John within the imposing Cathedral, Van Staeyen Interior Architects have amended that perceived convention—designing a contemporary gothic bar with custom-made furniture and a bounty of subtle details that nod to the basilica's plentiful history: chapels, annexes and porches, vaulted ceilings and objects of art some of the references that can be spotted throughout a simple but effective design that breathes contemporary life into the heritage building.
The bright and light space features tables and chairs made primarily from French Douglas Fir, the same material used on the original, simple but beautiful wood floor; exposed brick walls tick the Instagrammability box; whilst a serving hatch shaped to mirror the look of the Cathedral's windows, with rich blue used to reflect the stained-glass element, doubles as a sculptural intervention that turns a simple space into a design lover's delight.
With some 280,000 visitors each year, Van Staeyen's stylistic approach to the staid tourist attraction bar is sure to keep many of those around for a little longer than before; whilst the famed Cathedral of Our Lady might find some new guests in the shape of globetrotting design junkies.