With views over the Arabian Sea, Soho House & Co's latest project—located in the affluent Mumbai suburb of Santacruz West—is inspired by Indian culture and combines a heady mix of colour, locally sourced furniture, and antique fittings with all the refinement that Nick Jones's inclusive members' clubs have become synonymous for.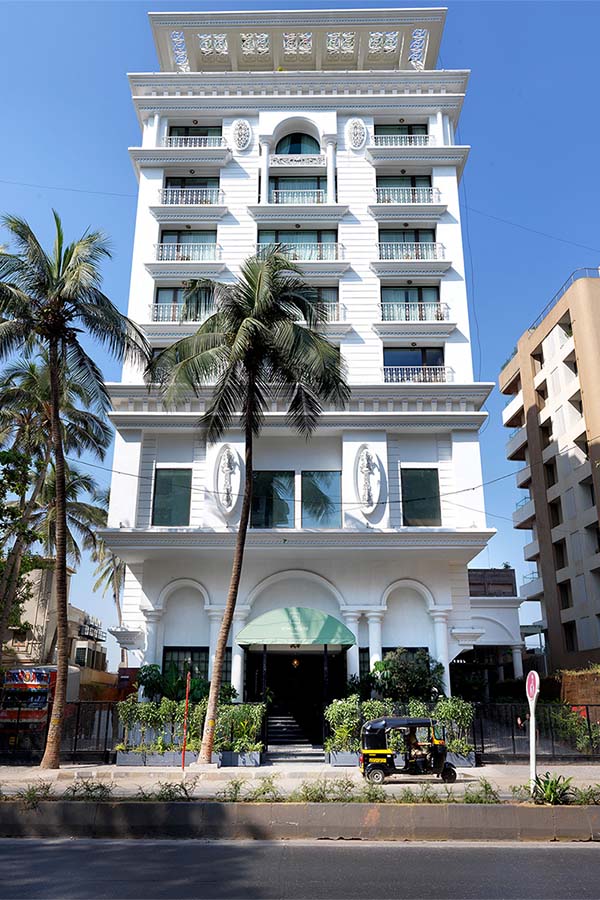 Set within a handsome 11-storey building, the 38-bedroom house—the brand's first in Asia—features a members' space located on its eighth floor which boasts high ceilings with cut-glass chandeliers, antique teak floors, and a central bar adorned with antique mirrors, glass wall lights and leather bar stalls. An area set aside for lounging and feasting is filled with antique furniture and custom pieces from Soho House Design; whilst the impressive outdoor balconies offer views of the city or out to sea.
Members can split their downtime between the gym and screening room, a 34-seat cinema showing daily screenings that can be enjoyed from inviting armchairs made in mohair with local Rajasthani hand-printed block fabrics. Footstools, side tables, and a drinks and snacks menu serve to elevate the experience further.
Up on the rooftop, traditional Indian cement tiles, walls clad in reclaimed sleeper wood and retractable awnings overhead complement the stellar views—which are made all the more better when savoured from the pool or plant-filled terrace dotted with those Soho House signature striped sunbeds.
Cecconi's Mumbai, located beach side and serving northern Italian dishes, and lounge-cum-café The Allis are both open to the public, as is multipurpose events space The Paisley room; allowing non-members a glimpse at what makes this house so special. A 200-piece art collection made up of artists based in or from South East Asia typifies the creative essence Soho House was founded on, and expect that individualist spirit to run through another fine addition to a bulging portfolio.