Soho House Amsterdam is the latest opening for the private members' club pioneers who are adding to their impressive arsenal of fancy restaurants, cinemas, workspaces, spas, and hotels; a portfolio of properties dominated by style and creative-influence.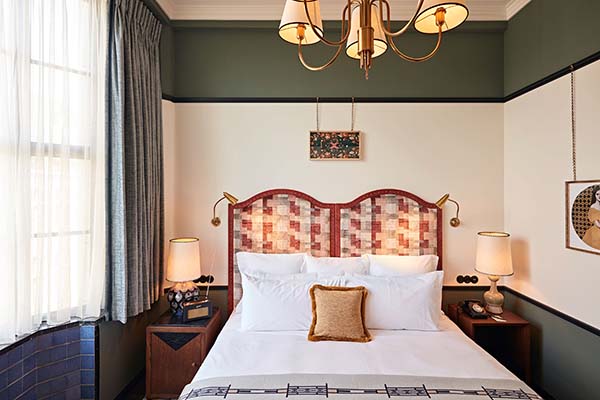 Located in a canal-side house of the Bungehuis building on Amsterdam's Spuistraat, guests at Soho House Amsterdam can unwind in one of 79 rooms; around the hotel's fine rooftop swimming pool with views over the capital; or at the Cowshed spa. Italian restaurant Cecconi's overlooks the canal and, with a retractable glass roof to enjoy sunny days, serves their classic handmade pasta, seafood, and Northern Italy-inspired dishes—its lush greenery, leather banquettes, vintage rugs, and deep red marble striped floor, synonymous with the modern-day classic Italian eatery that international Soho House members will be familiar with.
Kate Bryan, head of collections for Soho House, has curated an art collection that offers a contemporary take on 15th and 16th century Dutch art and, acknowledging the history of Dutch art, a self-portrait wall in homage to Rembrandt and Van Gogh hangs proudly in the 1930s-built building. Respecting the property's heritage, bedrooms feature 1930s timber panelling and stained glass windows, freestanding copper bathtubs in the larger rooms, and restored art deco lighting, original wall panelling, and mosaic tiled floors in the limestone clad corridors.
The main members' space on the fifth floor is the place to mingle, with a bar area, house kitchen, and seating area complete with inviting fireplace and small co-work area. Notching another one of the world's great creative capitals under its belt, Soho House continue their global domination in quintessential style.