Bringing fine Italian dining to a city fiercely proud of its own culinary triumphs may seem a fools errand, but Cecconi's — which joins Dirty Burger Chicken Shop as part of the Soho House takeover in this corner of Barcelona — proves itself as a place not just to be seen but to savour too.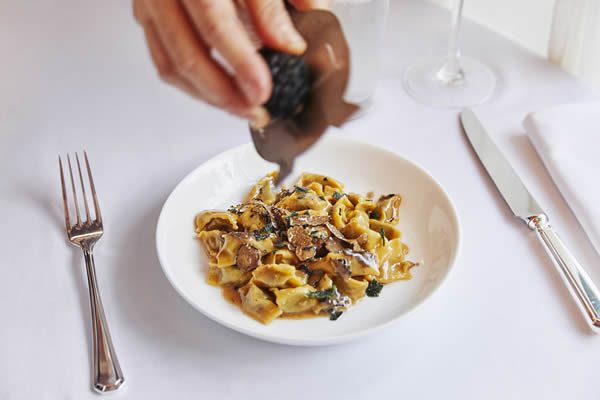 Starting with the obligatory aperitivo (this time a Campari and Valencian orange juice cocktail), Cecconi's whisks us away on a culinary journey through the traditional and lesser-known dishes of Italy. Classic recipes like parmigiana di melanzane mix with fresh alternatives like a kale and apple salad; delivering the perfect blend of the familiar and the contemporary for the Barcelona crowd.
Small touches like the inclusion of traditional Catalan ingredients and sauces not only act as a 'homage to Catalonia', but also lend Cecconis's a sense of place; leaving it feeling like a part of the city over another import.
As for the décor, Venetian-luxe is the order of the day. The bar area features padded red-leather bar stools and cocktail waiters clad in white jackets — the restaurant itself mixing contemporary and old school Italian with plush velvet sofas, marbled mosaic floors and curtains between tables; giving me the romantic notion that a modern day mafioso could be brokering a deal as we eat.
The best tables in the house, however, are right in front of the kitchen in the atrium area. This glass roofed area feels almost like eating in an extremely glamorous outdoor restaurant and, in the sunny weather (which just so happens to be most of the year in Barcelona), the roof opens, letting you soak up the sun as you sip on your negroni.