Chinatown to the south; the Lower East Side and the East Village to its east; Little Italy and NoHo to the west … The Bowery is the oldest thoroughfare on Manhattan Island and, along with its surrounding neighbourhoods and slew of notable venues (including the Bowery Ballroom on Delancey and the 2007-built New Museum of Contemporary Art) boasts both a storied past and present.
Due to continued gentrification, a growing number of high-rise properties have sprung up—one of these the mammoth CitizenM Bowery Hotel, which takes full advantage of its height with in-room panoramic windows and an incredible rooftop bar that offers jaw-dropping views of the world's most famous skyline.
As is standard with our favourite Dutch hotel group, community is key here, the contemporary lobby a hang-out for locals and travellers indulging in a coffee, bite to eat, spot of co-working, or simply to watch some telly, read a book, or peruse the hotel's comprehensive contemporary art collection. (The latter being quite staggering in its breadth and quality.) Designed to feel like a home-from home, the lobby is a stylish living room filled with Vitra furniture for extra comfort; and is home to canteenM, an open kitchen and eatery where guests can enjoy breakfast, fresh pastries, good coffee, light plates and craft beer or cocktails as the working day seamlessly switches into night.
Located amid one of New York's most evocative and exhilarating neighbourhoods, there's every chance that the time spent in your room will be limited, but, with XL king-size beds, seriously high-pressured rain showers, ambient lighting, movies and wall-to-wall views over downtown Manhattan, your time spent there will certainly be unforgettable.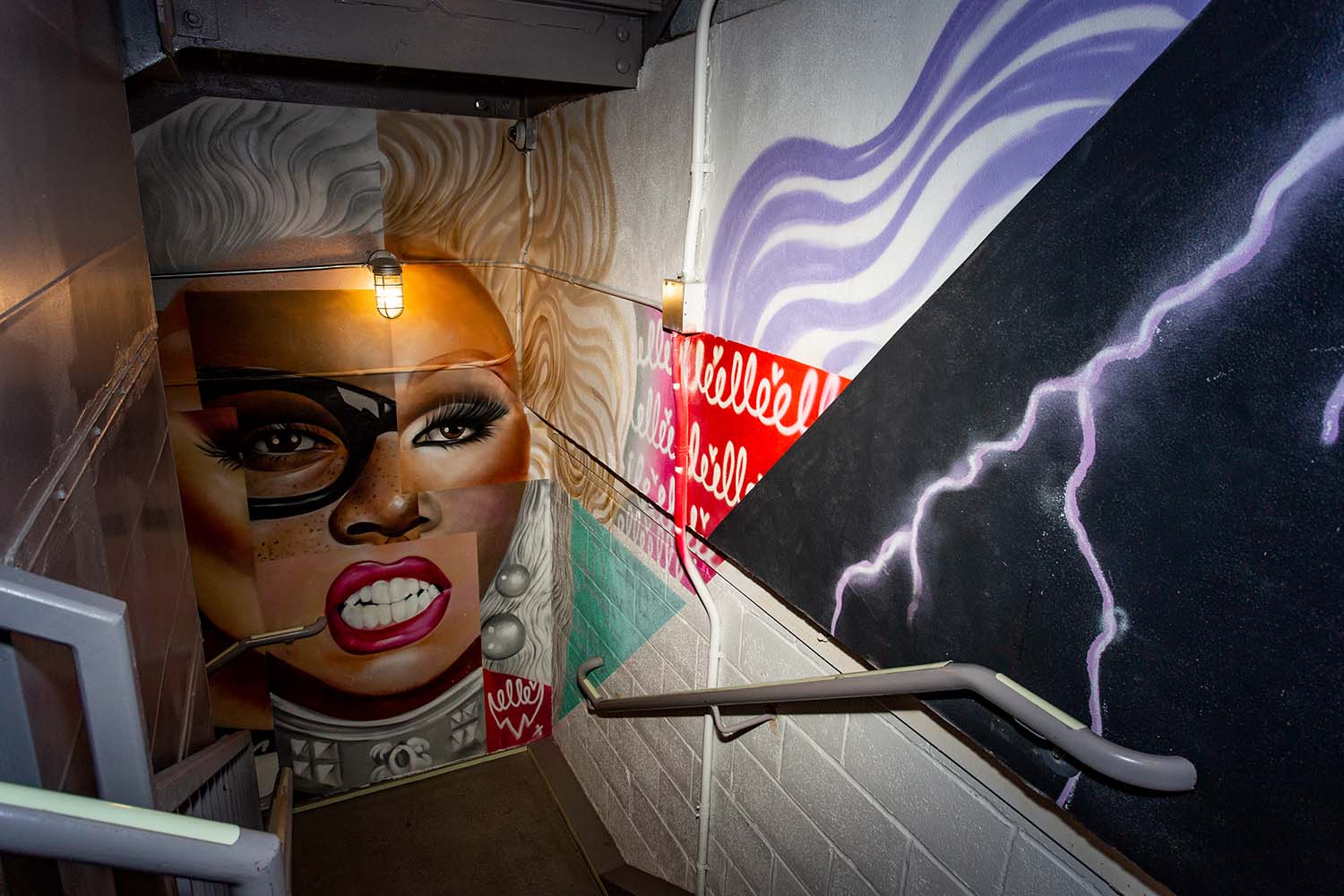 Our room—located on the 18th floor—sees us spying a Shepard Fairey-painted water tank on a neighbouring rooftop, the soaring towers of the Financial District in the distance, and has us gazing quizzically at the former AT&T Long Lines Building; an eerie 550-foot-tall skyscraper now known as 33 Thomas Street, more so for having no exterior windows. Designed by architect John Carl Warnecke in 1974, it has been widely speculated as the home of a National Security Agency surveillance hub codenamed TITANPOINTE. Manhattan's is truly a skyline of discovery for those suffering the joys of jet-lag.
Taking optimum advantage of its height (the hotel is the tallest in the neighbourhood) cloudM, situated on the 21st floor boasts 360-degree views, a sizeable outdoor deck and a full cocktail, wine and craft beer menu. Open to all citizens, the views over the Bowery and Lower East Side out to Brooklyn, the Empire State Building and way beyond are enough to keep you there from early evening into late night; as are the friendly staff and design aesthetic that has been carried on from the lobby area.
For the street art lovers among you, we recommend taking the scenic route back to ground level from cloudM, walking down via the hotel's Museum of Street Art (MoSA), which spans the building's internal stairwell and stars work from Sheryo, The Yok, and other leading names from the world of urban art; the unconventional gallery leading from rooftop back to street level. A collaboration with 'Shazam for art' app, Smartify, includes an audio tour of the vertical gallery.
Affordable luxury with everything you need and nothing you don't, the CitizenM Bowery is a welcome addition for art fanatics and the culturally curious when in New York City. As brilliant for first timers as it is for many timers, fans of and newbies to the Dutch brand will be wowed in equal measures by this stellar new Manhattan hotel.