A concept that mixes fun, innovation, and dedication to the experiential, Nocturnal Animals—the second venue conceived by acclaimed, non-conformist chef Alex Claridge of The Wilderness—takes diners on a journey of culinary brilliance, bold flavours, and afternoon tea with a twist.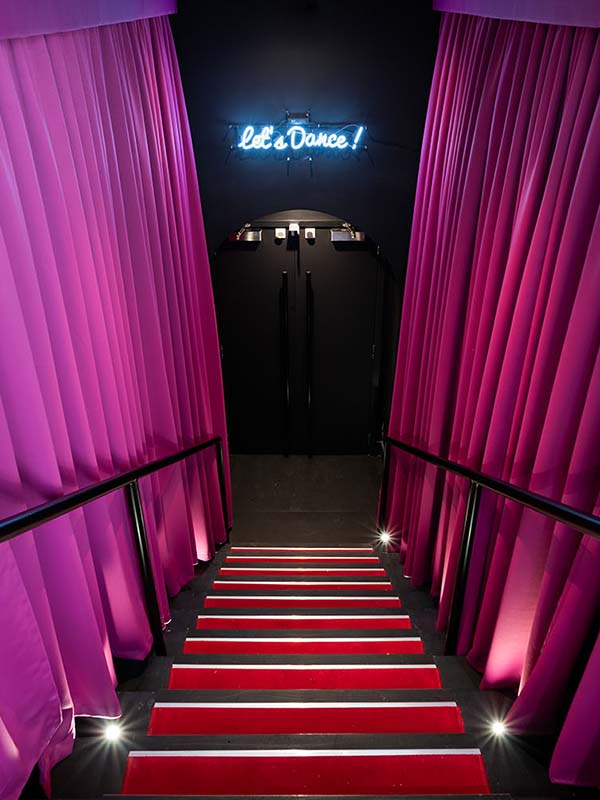 Inspired by '80s pop culture, the interior spaces at Nocturnal Animals boast an explosion of neon-infused glamour, the venue separated into distinct 'experiences' and shattering all preconceptions about what a fine-dining restaurant should look like.
Designed by Faber Design & Architecture, who took direction from the food (the menu was devised by Claridge whilst listening to the All Out 80s Spotify playlist, who in turn imposed the same rules on the design team), the end result is a fusion of monochrome, graphic prints, kitsch neon signage, and passageways that have an air of David Lynch surrealism about them.
Downstairs, the 42-cover fine-dining restaurant draws on the kitchen's Konro charcoal grills to create an ambitious tasting menu and à la carte alternative that draws on eclectic influences from modern Japanese and Chinese cooking, whilst upstairs—amidst more bold and adventurous décor—mixologist James Bowker has put together a selection of distinctive cocktails inspired by colour and driven by flavour.
Afternoon tea is a theatrical affair overseen by MasterChef: The Professionals finalist, Brett Connor, where a selection of sweet and savoury dishes served in a tasting menu format are presented alongside options for champagne and cocktails.
Located at 20 Bennetts Hill in Birmingham City Centre, Nocturnal Animals takes its food and drink seriously, its experience a little less so. Another convention-defying restaurant from Claridge