Hiding behind shuttered doors on Hong Kong's Aberdeen Street, Happy Paradise is an Aladdin's Cave of dizzying neon and euphoric high-times; a restaurant-bar that serves up what chef-founder May Chow calls 'innovative Neo-Chinese cuisine' and 'simple yet boldly ballsy cocktails' late into the night.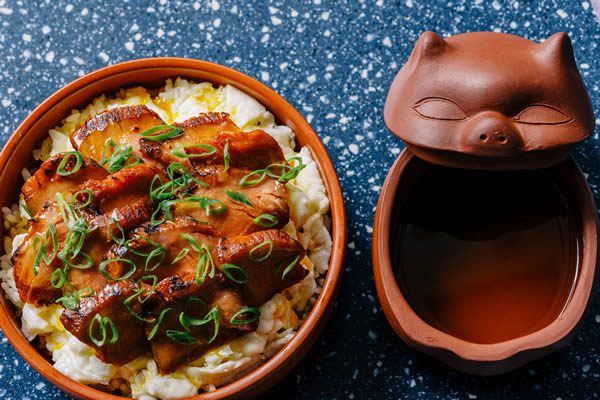 The award-winning chef's idea of a neighbourhood hangout, Chow and executive chef John Javier serve up buoyant cuisine directly inspired by the diverse flavours of regional Chinese fare. To be dived into for dinner, as bar snacks, or to satisfy late-night cravings, Happy Paradise's menu is as playful and cocksure as the chaotic interiors; without ever losing the integrity of Chinese flavour and philosophy.
Originally from Australia, Javier experiments with tastes and presentation to craft a psychedelic culinary experience for diners, re-inventing traditional Cantonese dishes with modern techniques and stimulating aesthetics. Head bartender Chanel Adams has devised a three-part cocktail list — easy, adventurous, and crazy — shaking and serving a profusion of Chinese-inspired signature drinks, classic cocktails, and bold flavour combinations for the more daring as the night cacophonies into uproar.
Located not far from Chow's noted Little Bao restaurant, as its glitzier sibling, Happy Paradise combines unabashed good times with kitsch-laden interiors and lip-smacking culinary offerings. Paradisiacal indeed.