*Permanently Closed
KOJAWAN, a restaurant on the 23rd floor of the Hilton London Metropole is anything but what you expect it to be. Its location is hardly anything to shout about: Edgware Road, only remarkable for human and car traffic, 1970s office blocks, and a few local restaurants. It is hardly a destination location.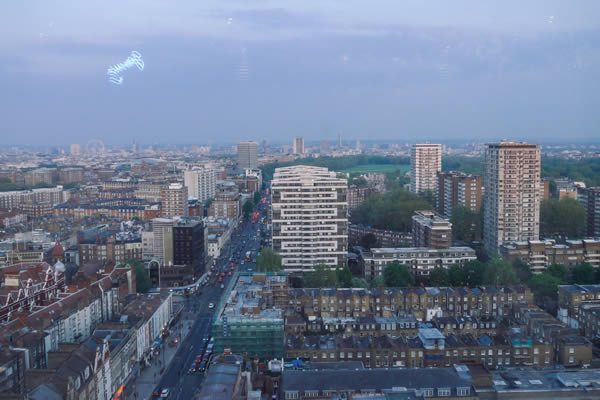 It's all a bit hectic when you arrive at the hotel, too, eager tourists and business types from across the globe checking in, whilst we follow Godzilla-feet stickers to the lift. Up to floor 23, though, and we're inside; eyes darting between views of London through the space's glass frontage, and a baffling silver/grey interior that looks like it should have Jamiroquai's Jay Kay shuffling around in it. Dotted everywhere are art prints and vinyl toys by the likes of Medicom Japan; Bearbrick; Ron English; and Phunk Studio. Mounted on silver Blade Runner tiles, TV screens show Anime while fluorescent hints of colour highlight what looks like a bad film set. Mind sufficiently popped, we sit agog trying to figure out what to make of the gallery cum restaurant.
A weighty silver folder arrives with a smile; staff feed off our bewildered expressions, and I'm reminded of a Total Recall set circa 1990. The 'case-file' is a menu, not a report of an alien invasion, and we're happy to try a bit of Booze Food (zucchini fritters and crab dumplings) with a sake cocktail to settle in for the ride. Had I not said? We're in a spaceship, a UFO that you might imagine the Spice Girls flying around in; and this is not Secret Cinema.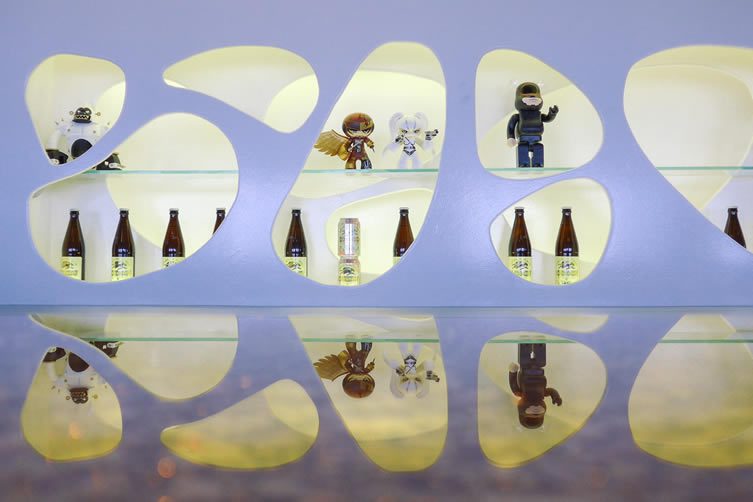 The edible offering dishes up an interpretation of a 21st century izakaya (informal Japanese after-work drinking spots, often likened to pubs or taverns), the brainchild of globally acclaimed chefs Bjorn Van Der Horst and Omar Romero and, visually, KOJAWAN is the kitsch neo-'90s vision of Henry Chebaane, aka artist-designer H.DD8.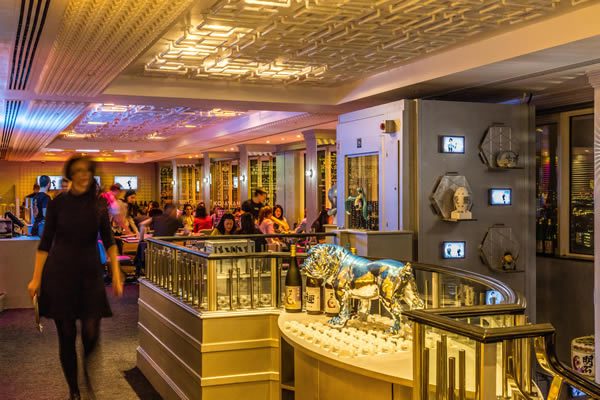 At play here is popular Asian culture; low-brow art; collectibles; iconography; Anime and an homage to trashy cinema, but I feel I need Chebaane to expand: 'I felt that the solution was a kind of aircraft that would conceptually transport visitors to someplace else, away from the humdrum of central London, which seems to be all recycled furniture and filament bulbs on a backdrop of bare bricks.' So, KOJAWAN is a big two-fingers to the homogenised Antipodean aesthetic that is overrunning the capital; but what about its ode to science fiction?
'Science fiction is a massive cultural leitmotiv, particularly in Seoul and Tokyo; you can observe it in every popular media. Naturally, it also resonates well with Western consumers, so at KOJAWAN this thread acts as a kind of mental connection between East and West. Also, I have an equal interest in art and science. Astro-physics and quantum mechanics are particularly fascinating topics. Relevant in this particular context are the implications of folding time and space, and looping through a multiverse. So KOJAWAN has physical elements of various time periods, unified by a light, simple colour palette acting as neutral foil to the colourful people, arts, and cuisine it contains.'
Indeed, everything about this place is nonconformist. 'Bjorn and Omar were keen from the start to offer high quality but unconventional food, drinks, and service, so they understood and agreed immediately to the attraction of such an open-ended design concept — where everything and anything can happen: the ultimate live gallery where everyone, staff and guests, can be actor and spectator at the same time.'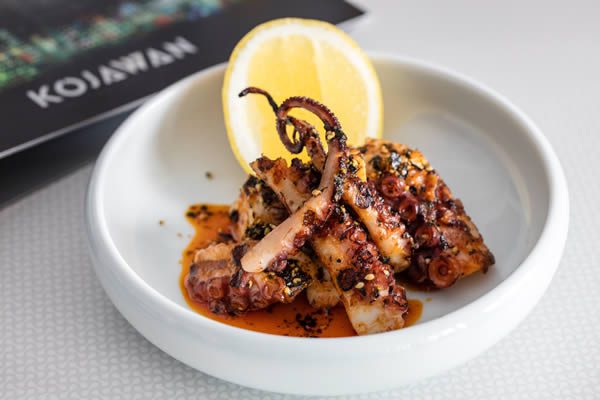 Van Der Horst and Romero's menu is a playful and ingredient-led mash-up of Korean-, Japanese-, and Taiwanese-inspired cuisine; hence Ko-Ja-Wan. Founded on the duo's life at international restaurants and their respective travels, it focuses on flavour, texture, and presentation. From the raw bar we sample the inventively-presented Cobia tartar with Osietra caviar, miso with samphire followed by the spicy crab sushi-style 'rice sandwich', from the charcoal grill comes some seriously fresh octopus with smoked red pepper oil that sings of the Mediterranean; and from the fire stove, lobster black bun with seaweed and indulgent cheese.
It's a wild array of eclectic reference points; Omar explains how it comes together: 'when Bjorn and I started to develop the concept, we couldn't choose which cuisine we liked the most, so we decided to mix them all. This is what's happening over there, our interpretation of Asian cultures is very traditional but what is really happening in Japan, Korea, and Taiwan, is a constant mix of flavours and recipes based on similar ingredients. Each one has their version of fried snacks or street food which share the same roots.'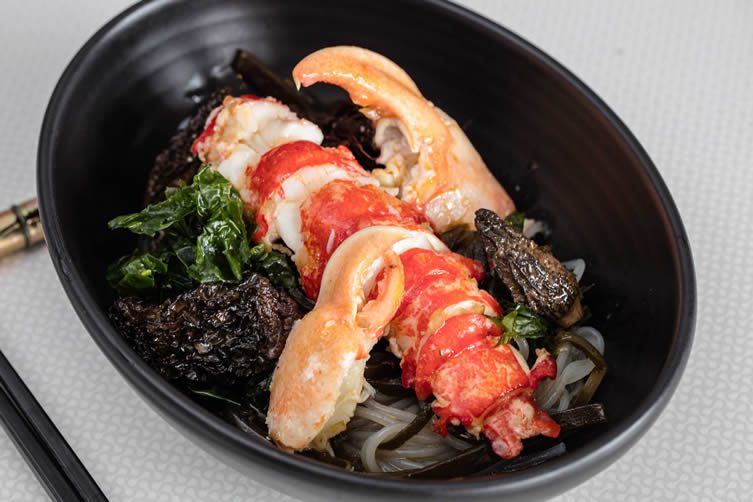 'We noticed that there was a trend for people to trying to be authentic with ethnic food, but it is almost impossible to recreate the same flavours without the same ingredients, the same water, rice, and so on. So, by using local produce with some traditional techniques — or the other way around — we can create a great result. We also wanted to change the stereotypes of Asian food associated with bamboo, dragons, or geishas, by bringing what is currently happening in metropolises like Tokyo, Seoul, or Taipei, where a fusion of cultures happens in a very contemporary way.'
Do I get KOJAWAN? I'm not sure I do, but I do admire its bravery and vision. There is simply nowhere else like it anywhere in London. The restaurant's ARTSPACE is definitely worth a look, Chebaane took eight months to curate the collection of modern Pop Art pieces that complete his vision. The food too is exciting, its broad-ranging ingredients super fresh. Flavour is key, and what is presented is delivered beautifully on a mix of materials from metal to clay. I think KOJAWAN sets out to entertain, and that it does; it is at once utterly perplexing, and entirely contagious. London just got itself an original.